So far, only one GOP candidate has completely snubbed Iowa: Chris Christie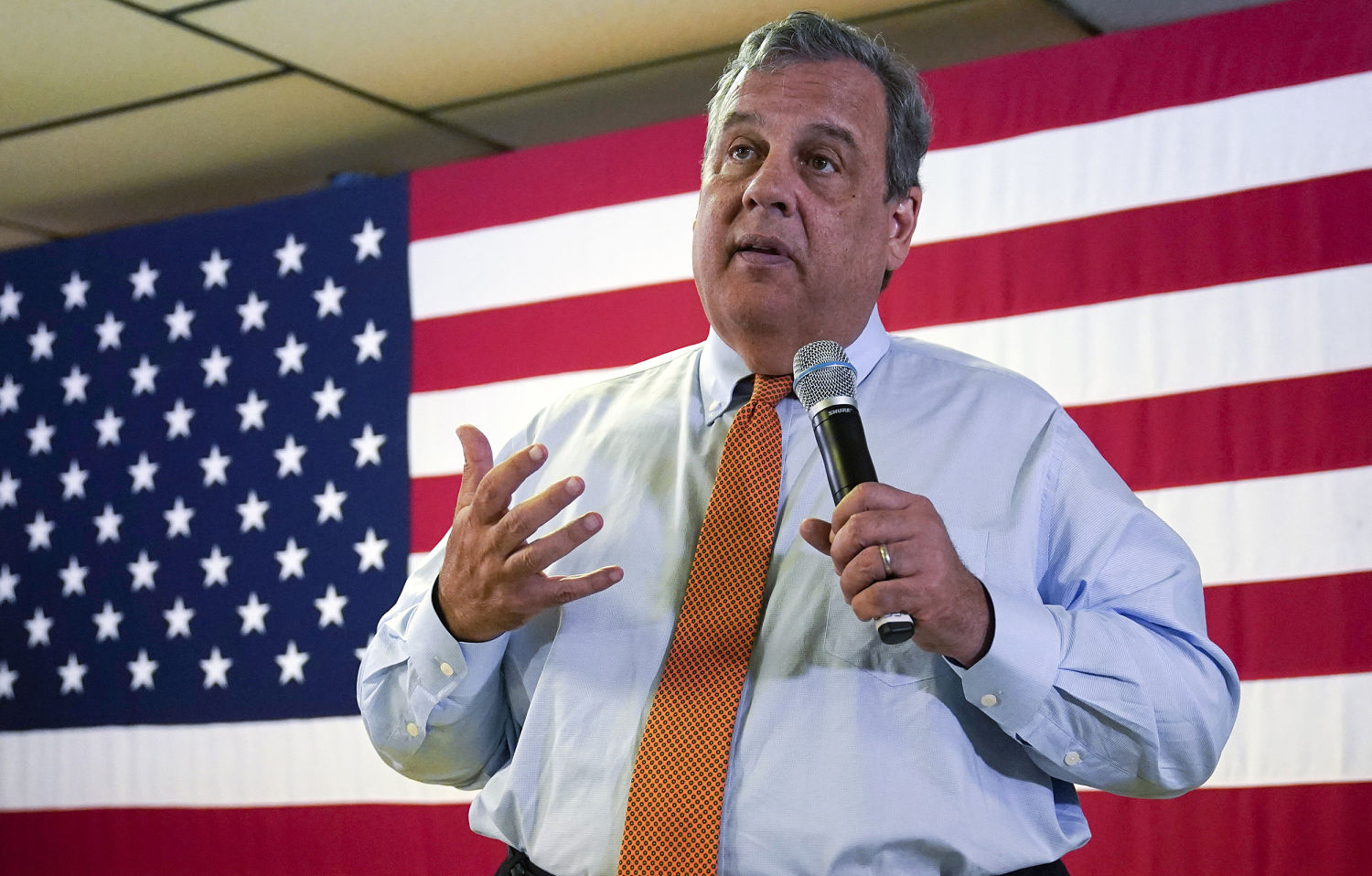 Former New Jersey Governor Chris Christie has become a fixture across New Hampshire. He has also spent time in South Carolina since announcing his 2024 presidential bid. But there's one notable state he's completely skipped so far: Iowa.
Iowa caucuses traditionally kick off the fight for the GOP presidential nomination and focus candidates' attention on the state. This year, Iowa will open the delegate race on January 15th. That's why every Republican presidential candidate has visited the Hawkeye State so far this year – with the exception of Christie.
When asked (during a recent trip to New Hampshire) why he hadn't traveled to Iowa yet, Christie told NBC News, "I haven't traveled because I didn't want to. And if I want, I'll go sometime later."
Christie's strategy of spending more time in New Hampshire than Iowa is not new. He did that during his first presidential run – although not to this extreme extent.
The former governor was in Iowa for 32 days and made 71 stops between Jan. 1, 2015 and Feb. 1, 2016, according to NBC News' recording of his events. Meanwhile, Christie spent 75 days in New Hampshire and made 175 stops there during the same period.
According to NBC News' tracker, Christie has spent six days in New Hampshire since July 4 this year and opened 11 events to the press.
It was only somewhat worth it. Christie placed 10th in Iowa with 1.8% of the GOP caucus vote, but finished sixth the following week in New Hampshire with 7.4% of the vote. Still, that wasn't enough to stay in the 2016 race — he dropped out the day after the New Hampshire primary.
Two presidential elections later, Christie's standing in Iowa is still significantly worse than in New Hampshire, according to public polls. Christie's average share in the last 10 Iowa caucus polls in the FiveThirtyEight database is 3%. In the last 10 New Hampshire primary polls, Christie averaged 9% support.
Historically, moderate Republican candidates spend less time in Iowa and more time in New Hampshire, where independents traditionally play an important role in open primaries. The number of self-described moderates was twice as high in New Hampshire as in Iowa in the 2016 NBC News exit poll.
And in 2015 and 2016, Jeb Bush and Christie were examples of candidates who spent less time in Iowa than more conservative Republican candidates. Bush made 50 stops in Iowa in 27 days. Meanwhile, in New Hampshire, he made 110 stops in 55 days, according to NBC News' recording of his events.
Meanwhile, Ben Carson, one of the candidates who pushed for more conservative support in 2016, made 100 stops in Iowa in 44 days, compared to 37 stops in New Hampshire in 16 days. Sen. Ted Cruz made 138 stops in Iowa in 47 days, compared to 67 stops in New Hampshire in 32 days, according to NBC News' recording of events.
"Look, I have to decide where is the best place to spend my time," Christie told NBC News. "Everyone has limited time, I decided I wanted to spend my time in New Hampshire and South Carolina. I think those are the places where you have the best chance of doing well."
There's one thing that could really entice Christie to visit Iowa this election cycle: former President Donald Trump.
Christie said that if Trump doesn't attend any of the debates, he will "follow Trump around the country."
Asked by a reporter if he would follow Trump to Iowa, Christie said: "That's interesting. That could be. That's a good question. If I knew I could catch him there – yeah, I probably would."
Although Christie hasn't visited the Hawkeye State, he also said that "everyone" would consider Iowa Gov. Kim Reynolds as his running mate.
"[I've] I've known her for a long time. I like Kim a lot," Christie said during a town hall at New England College hosted by SiriusXM's Steve Scully. "She has practical experience and is, in my opinion, someone who has the skills to be president if she wanted to."