Sport under control: There were a lot of presents at Christmas, but not many in the sporting sense
SPORT AT HAND • Where were we? Oh yeah. Preparation for Christmas. Well that's over. What's next?
•••••••
• Christmas was great. Expensive – in many ways – but great. But to be honest, the sporting aspect seemed a bit sparse.
NBA games on Christmas Day used to be a big deal. But the league seems to matter less when there isn't an overarching superstar or superteam, as there is currently. Part of that can be attributed to a larger pool of great players, each of whom would have been at the top of the food chain in years past. And part of that is injuries as some of the top names are out of action over the holidays.
The league's biggest shortcoming, however, is its lack of a headline team from a big city. New York? nope Los Angeles? nope Chicago? nope Boston? Well, maybe, but not exactly.
Parity is okay in the NFL, but not in professional basketball. The forces must be the forces. The closest thing right now is Golden State, but the Warriors aren't even last season's Warriors, which means the top spots in the West have been ceded to teams in outlying locations. memphis Denver. New Orleans. Good solid teams all. But needle movers? nope
Boston has the best record in the league and the best cast. That's cool, but what wouldn't we give for a prime-time LeBron James leading someone, anyone, to the top of the NBA mountain. Maybe there are just too many great players right now for anyone to excel to this degree.
Admirable, sure. But not that funny.
The same goes for the NFL over the weekend. Not much fun – especially for Seahawks fans. Your team is the essence of mediocrity. Not bad enough to be vying for a top draft pick – thankfully Denver is taking care of that aspect – and not good enough to be actually make the playoffs.
Really, how many of you think Seattle will win its last two games, get the help it needs, and sneak in? Not us. In fact, we'll be a little surprised if the Hawks stop the Jets on New Year's Day, despite Vegas making them a two-point favorite.
For some reason, we've succumbed to the inevitability that the Packers will find a way into the postseason and then, as the seventh (and final) seed, will upset the 49ers in the first round.
College basketball occasionally saves the holiday season, but not this year. Not even when Washington State plays Hawaii.
The Cougars won once in Honolulu, held off last-place finisher George Washington 66-64 on Thursday, lost to eventual champion Hawaii at 11 a.m. Friday and fell to Utah State at 9 a.m. on Christmas Day. The latter wasn't quite as close as the WSU defense was in a giving up mood for most of the second half.
In the parts we watched, we were surprised at how often Washington State defenders didn't guard anyone, whether the Cougars were in a zone or playing man. Yes, Utah State is a great shooting, selfless offensive team – as the announcing team kept reminding us – but the Aggies sets were nothing extraordinary. Still, they seemed to confuse WSU and, in large part, resulted in USU shooting 11 of 17 from beyond the arc.
It doesn't get any easier for 5-8 Washington State. The Cougars host No. 13 UCLA on Friday (11-2) and the underrated USC on Sunday (10-3). Then it's a trip to the desert where Arizona State (11-2) at No. 25 and Arizona (12-1) at No. 5 await.
We could wake up on January 8th and WSU could easily be 5-12 overall – and 0-6 in the Pac-12. A week into the New Year and every chance of a postseason tournament only possible with an incredible turnaround.
And with that, we wish you all a Happy New Year.
•••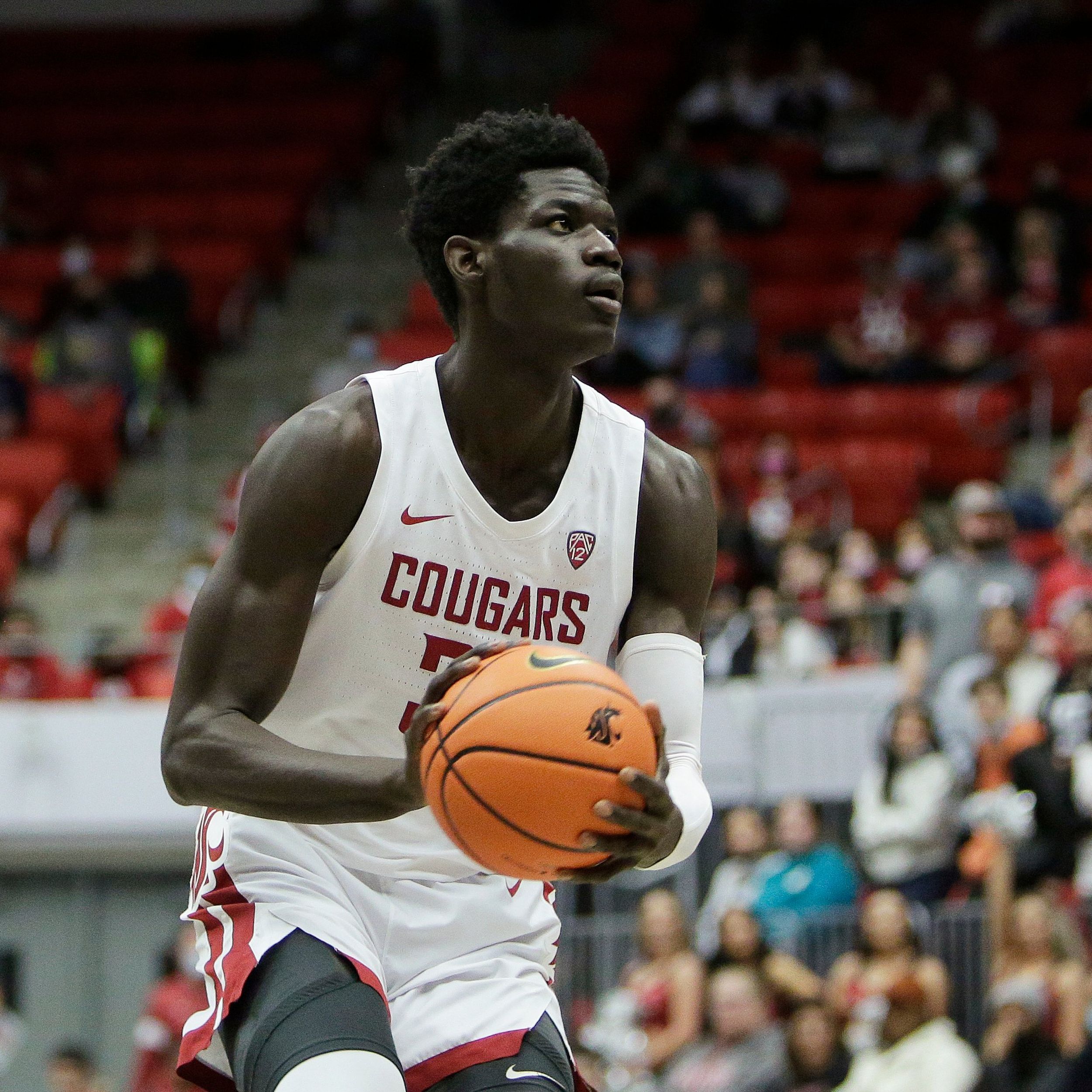 WSU: Colton Clark wasn't in the warmth of the islands, but he has yesterday's game history defeat in basketball. … While at Pullman, Gardner Minshew learned much from Mike Leach. A lesson? There are no moral victories. … Elsewhere in Pac-12 and college football Jon Wilner sent a mail bag on the Mercury News website over the weekend, as well as the rating of the conference schools their success with the transfer portal. … Washington was successful in this regard by keeping its players. … Oregon has a great recruiting class coming up. Consider the Holiday Bowl depth map, the ducks need it. … Oregon State received an explanation from the quarterback it needsformer Clemson starter DJ Uiagalelei. … Colorado coach Deion Sanders was in the headlines for most of his life. … On the basketball news, Winning requires contributions of more than stars. … Tommy Lloyd got off to a great start Arizona and has received several awards for it.
gonzaga: The great Christmas story of SR? No, it's not Anton Watson playing Santa Claus. It is Theo Lawson's definitive work on Hunter Sallis, Gonzaga's first major recruit from Nebraska. And lately a major contributor.
EMU: Kendrick Bourne had a big game for New England over the weekend. But no one is going to say why it took the Pats so long to use one of last year's best receivers. … Elsewhere in the big sky, Northern Arizona has hired a new football assistant. … On the basketball news, State of Montana has received contributions from the depths of his list.
Idaho: Jason Eck's first season in Moscow as head football coach was more successful than most probably hoped. What's coming up? Peter Harriman tries to find out in this story.
Seahawks: The Hawks played and lost on Saturday. But we didn't want to miss linking to Dave Boling's column from the 24-10 decision in Kansas City. … According to Larry Stone, there were signs of improvement, but not enough. … Jim Moore dives into the territory we've been exploring all season to win against tanking and make the best possible draft picks. … Kenneth Walker III had his best game in a long time.
Sailors: What have the M's done so far this offseason and what else do you have to do?
Octopus: Alex Ovechkin is on course to break a seemingly unbreakable record, Wayne Gretzky's career goalscoring mark. Which raises other seemingly unbreakable professional records, including John Stockton's assist mark.
•••
• We don't ride bikes anymore. I'm quite fond of our appendages and have had too many friends and neighbors injured in late life accidents. But we know we could do it if we chose to do it. After all, the term "like riding a bike" applies. And applies if you take a few days off from writing this feature. Yes, we fell once and hurt our arm. But we managed. See you later …
https://www.spokesman.com/stories/2022/dec/26/a-grip-on-sports-sure-there-were-a-lot-of-presents/ Sport under control: There were a lot of presents at Christmas, but not many in the sporting sense