Steam Deck OLED is an important, if not essential, hardware update
With the introduction of a revised Steam Deck, device manufacturer Valve is strengthening its leadership position in the handheld gaming PC market. This follows the emergence of competing options throughout 2023 as handheld gaming is used as a means to expand interaction with existing platforms.
Steam Deck OLED will revive flagging Steam Deck sales
While Steam Deck wasn't the first portable gaming PC, it was the first device to transform what PC gaming is all about into a handheld form factor. The utility of its custom SteamOS operating system helped device maker Valve establish a new and growing category of portable gaming PCs.
Since then, traditional PC OEMs have entered the market in 2023 with their own devices running Windows, a competing operating system. Both Lenovo's Legion Go and ASUS' ROG Ally borrow heavily from the Steam Deck in their approach to hardware design, while also attempting to improve on some of its weaknesses.
It follows that Steam Deck has lost some of its luster since it no longer has its own market. In fact, there are signs that Steam Deck sales have slowed compared to last year. Omdia analysis of Steam's global revenue charts suggests that Steam Deck hardware sales in 2023 will not generate the same revenue as last year (see Figure 1).
Figure 1: Steam Deck sales have slowed year-over-year since the start of H2 2023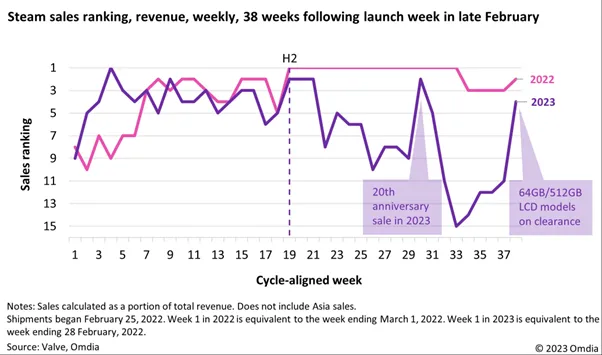 Valve attempted to reverse this situation through a series of price cuts during Steam sales – the most effective being Steam's 20Th
Anniversary Week 30, where Valve reduced the price of the Steam Deck by up to 20%. However, this only had a short-term impact on sales revenue. Steam Deck's global sales rankings throughout 2H23 have consistently fallen behind corresponding weeks in 2H22.
The introduction of a new OLED model should help reverse this trend in the long term. By addressing the original model's biggest flaw, it brings attention back to Steam Deck as the gold standard for playing PC games on portable devices. The device is becoming increasingly attractive to potential Steam users who are hesitant to purchase a device, while the faster hardware upgrade cycle associated with PC gaming could encourage upgrades despite the relatively young age of the hardware platform.
In March 2023 Omdia's Steam Deck Prediction Report It is estimated that 1.85 million Steam Decks will be sold in 2023, a 14% increase over the previous year (see Figure 2), while Valve expects to release a revised model "by early 2024" to increase sales momentum .
The sell-through of the Nintendo Switch this year suggests that the market has an appetite for a redesigned device, primarily characterized by a noticeable improvement in the screen. According to Omdia Console Report – 2H23, Sales of the Nintendo Switch OLED model in 2023 will account for more than half (53%) of Nintendo Switch hardware sales for the first time.
Valve is confident it has built up a significant inventory of Steam Deck OLED to avoid the shipping delays that plagued the original model's launch window. The fact that Valve sources its OLED panel from multiple suppliers suggests that the company has achieved some economies of scale in its production.
The device will also launch in Q4 2023, giving Valve the opportunity to take advantage of the busiest holiday sales period of the year in markets where it offers Steam Deck. For example, Nintendo shipped 44% of annual Switch hardware units to retail through Q4 2019, a year before COVID in which there were no supply chain disruptions.
Steam Deck's tight integration with Steam, the world's largest PC game distribution platform, allows Valve to deliver a smoother, console-like experience than competing Windows-based alternatives. It also allows to remove interoperability with Xbox Game Pass, which it directly competes with on Windows.
Figure 2: Short-term outlook for Steam Deck hardware sales volume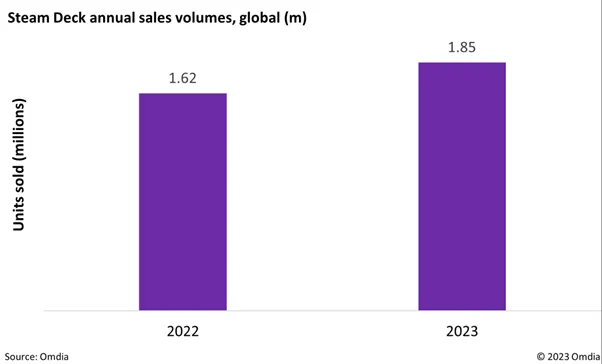 Steam Deck remains an added value for Steam
Valve still faces a number of hurdles if it wants to grow Steam Deck's installed base in the long term. Steam Deck is still primarily sold directly through Steam to users who already own and play PC games, limiting its practical options and reach through retail stores.
So Steam Deck is ultimately an added value for an existing software distribution platform and not a dedicated gaming platform like the Nintendo Switch.
Like Steam Deck, handhelds are increasingly being used to expand an existing gaming ecosystem, and other options have emerged alongside Windows-based handheld gaming PCs throughout 2023.
At Gamescom in August, Qualcomm announced plans to power a range of Android-based gaming handhelds using Snapdragon G-series silicon. A month later, in September, Omdia examined Apple's attempt to integrate console and PC triple-A gaming into its device ecosystem. Meanwhile, Sony Interactive Entertainment recently released PlayStation Portal, a handheld that streams games from a PlayStation 5, in November of this year.
Omdia believes that the PlayStation Portal serves to attract Sony's most valuable users to the PS5. This is ultimately the same reason Valve's Steam Deck exists – Steam users with the device will increase their engagement and spending on Steam content. Therefore, neighboring devices like Steam Deck and PlayStation Portal don't necessarily need to sell in console quantities to be useful to their platform holders.
Steam Deck OLED is therefore important as it ensures that Valve remains competitive with existing and new portable gaming options from rival gaming platforms, while also launching ahead of the expected reveal of Nintendo's next-generation hardware in 2024.
Attachment
further reading
Steam Deck Prediction Report (April 2023)
"Apple asserts its claim to AAA mobile gaming with the iPhone 15 Pro series" (September 2023)
"Sony's PlayStation Portal is little more than a retention game for PlayStation 5"
(August 2023)
"Gamescom 2023: The world's largest games trade fair proves the value of physical events" (August 2023)
Display Dynamics – November 2023: Valve's Steam Deck now features a 7.4-inch OLED from Samsung Display and BOE (November 2023)
Console Report – 2H23 (November 2023)
author
James McWhirter, Senior Analyst, Games
[email protected]
Citation policy
Request external citation and use of Omdia research and data via [email protected].
Omdia advice
We hope this analysis helps you make informed and resourceful business decisions. If you have additional requirements, Omdia's advisory team may be able to help you. For more information about Omdia's consulting services, please contact us directly at [email protected].
Copyright Notice and Disclaimer
The Omdia research, data and information referenced herein (the "Omdia Materials") is the copyrighted property of Informa Tech and its subsidiaries or affiliates (collectively, "Informa Tech") or its third party data providers and represents data, research, opinions etc. The positions published by Informa Tech are not statements of fact.
The Omdia Materials provide information and opinions as of the original publication date and not as of the date of this document. The information and opinions expressed in the Omdia Materials are subject to change without notice and Informa Tech has no duty or responsibility to update the Omdia Materials or this publication as a result.
Omdia Materials are provided "as is" and "as available". No representation or warranty, express or implied, is made as to the fairness, accuracy, completeness or correctness of the information, opinions and conclusions contained in the Omdia Materials.
To the fullest extent permitted by law, Informa Tech and its affiliates, officers, directors, employees, agents and third party data providers disclaim all liability (including, without limitation, any liability arising from fault or negligence) with respect to the accuracy or completeness or use of the Omdia materials. Under no circumstances will Informa Tech be liable for any trading, investment, commercial or other decisions based on or made in reliance on the Omdia Materials.
CONTACT US
omdia.com
[email protected]