"Stop Normalizing This Behavior" (Video)
The former New Jersey governor also got into a heated argument over Trump during Fox News' GOP primary debate with Vivek Ramaswamy
Former President Donald Trump didn't attend the GOP's primary debate in Milwaukee, Wisconsin on Wednesday, but he stole the show anyway when a question about his myriad legal troubles sparked a spat between two of his rivals.
That would be former New Jersey Gov. Chris Christie and businessman Vivek Ramaswamy getting involved after Christie denounced Trump and declared his former friend unfit for the presidency.
"Somebody has to stop normalizing this behavior," Christie said of Trump.
Trump is, of course, the overwhelming frontrunner among the likely Republican primary voters — a dominance complicated by the fact that he currently has 91 felonies on four counts.
Debate moderator Martha MacCallum brought up the issue about halfway through the debate, calling Trump "the elephant that's not in the room."
"If former President Trump were convicted in court, would you still support him as your party's election winner?" she asked.
While most of the nominees on stage raised their hands to signal their support for Trump, Chris Christie waved his hand aside. MacCallum noted that Christie was "a little late to the game" in demonstrating his support.
After trying to distract, Christie hinted that his gesture was actually a refusal of the question, adding, "Here's that, here's the bottom line: someone needs to stop normalizing this behavior."
He continued, "Whether or not you believe the criminal charges are right or wrong, the conduct is under the Office of the President of the United States." As the audience began to boo, he continued, "Hey, and you know , that's the great thing about this country. Booing is allowed, but it doesn't change the truth."
Christie reiterated, "It doesn't change the truth."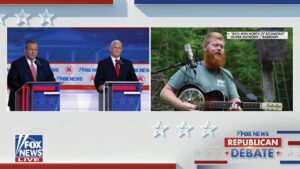 Then Ramaswamy stepped in. "I think President Trump was the best president of the 21st century. It's a fact. And Chris Christie, honest to God, your claim that Donald Trump is motivated by revenge and resentment would be far more credible if your entire campaign weren't based on revenge and resentment against a single man," he said.
"We are treading on thin ice and cannot set a precedent for the ruling party to use police force to indict their political opponents. It's wrong," Ramaswamy continued.
Not to be deterred, Christie reached out to Ramaswamy and said of his book, "You had very different things to say about Donald Trump [in your book] than you say tonight." When Ramaswamy denied that claim, Christie continued, "It's very true, and I've read it, and I know, by the way, you know what, I know a lot and I know a lot better than you."
He added: "You have never done anything to advance the interests of this administration other than to stand as a candidate tonight."
Watch the heated exchange between Christie and Ramaswamy in the video above.