Stormy and colder today, warmer again by Sunday
More rain coming early next week…
TODAY: Stormy & colder. Hi 43. Wind: NW 15-25 mph. Gusts to 40 mph.
TONIGHT: Increasing clouds, cold. Lo 25. Winds: N 5-15 mph.
SATURDAY: Mostly cloudy, isolated snow showers. Hello 37. Winds: SSE 5-15 mph.
Yesterday's official high of 71° fell short of a record high of 75°. Nonetheless, it was a sunny day, more akin to early May than late February. However, February can bring its ups and downs. For example, today's record high is 76° in 2017. The record low? -4° was set 2 years earlier in 2015. This week's roller coaster ride is certainly not unheard of this month, even if it seems strange. Colder air will return today and continue through Saturday before another warm up ends the weekend.
Despite a mild start, cold air is on the way and will pour in later in the morning. Winds are also picking up and gusts will be between 30 and 40 mph today. These winds combined with falling temperatures will make for a more typical February day today and the chill will continue into Saturday. The lows tomorrow morning will be in the 20s and the highs will remain in the 30s. There could even be a few scattered snow showers in places tomorrow, giving the region another brief taste of winter.
Sunday looks comfortable with mostly sunny skies and temperatures bouncing back into the mid 50's. More rain will return early next week and it appears to remain mild again. Not much change in overall warm pattern. We'll keep you up to date! Have a nice weekend!
-Meteorologist Brett Thackara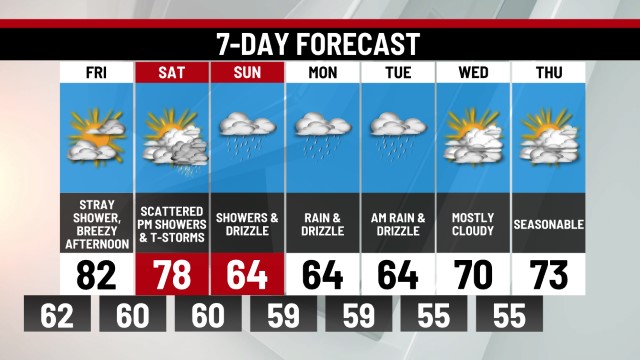 https://www.abc27.com/weather/forecast/blustery-and-colder-today-turning-warmer-again-by-sunday/ Stormy and colder today, warmer again by Sunday