Symptoms That Most COVID Patients Have – Eat This Not That
So far there have been 794,000 people died are from COVID in the United States, and as we continue to learn about the virus, One thing is for sure: It affects everyone differently. That said, there are some common signs that you have COVID and follow Dr. Justin Johnson, Emergency Medicine and Intensive Care with Mercy Hospital,"symptom include cough, fever, difficulty breathing and, to a lesser extent, loss of taste/smell and loss of tolerance. " Research ZOE COVID, which is the world's longest-running study on COVID-19 and led by Professor Tim Spector, professor of genetic epidemiology at King's College London, lists other symptoms to watch out for. Read below to learn about common symptoms of COVID — and To ensure the health of you and others, do not ignore these Sure Signs You've Got COVID.
The Research ZOE COVID reports, "Although headaches are a lesser-known symptom of COVID-19, they are one of the earliest signs of the disease and are more common than the 'classic' symptoms of cough, fever, and loss of smell." It's important to remember that headaches are common, especially as many of us stare at screens for so long each day, so even though many people with COVID-19 suffer from headaches, but most people who get headaches won't get COVID-19. Researchers have been studying how to distinguish between COVID and non-COVID headaches. They've found that COVID-19 headaches tend to:
Moderate to severe pain

Feeling 'thump', 'hit' or 'smash'

Occurs on both sides of the head (sides) instead of in one area

Lasts more than three days

Resistance to common pain relievers
We're not sure why COVID-19 causes headaches. It could be the virus that directly affects the brain. Or it could be related to an illness, such as dehydration or hunger from not eating normally. "
RELATED: I'm a virologist and here's how not to catch COVID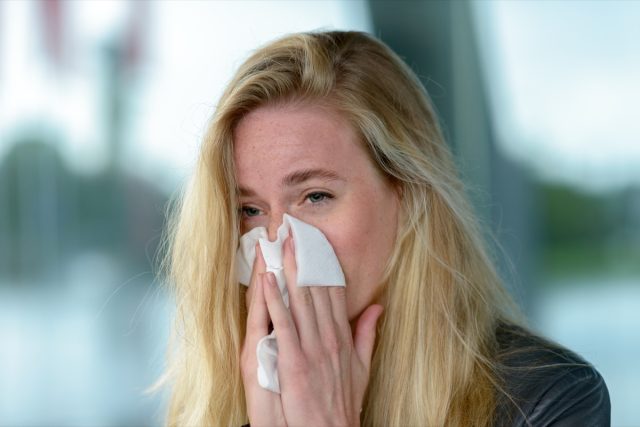 The Research ZOE COVID said, "During the recent winter run, we found that runny nose was the second most commonly reported symptom in the app after headache. And nearly 60% of those who tested positive for it tested positive for it. COVID-19 who lost their sense of smell also said they had a runny nose.So while we can say that many people with COVID-19 have a runny nose, it is hard to say that a runny nose is a million accurate evidence of COVID-19 because they are very common, especially in winter."
RELATED: 5 life saving essentials to have in the supply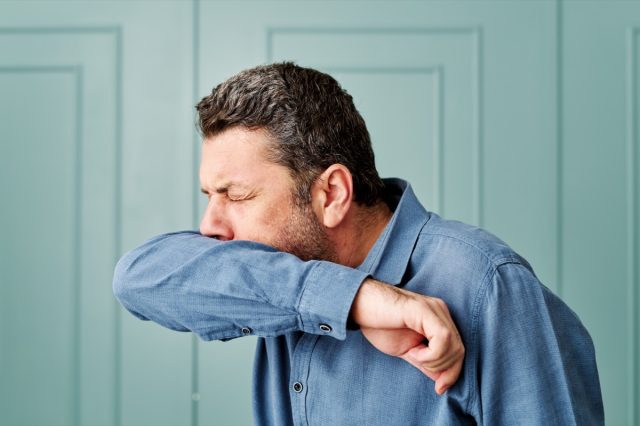 Follow Research ZOE COVID, sneezing occurred more frequently in patients who had vaccination. "Data from the ZOE COVID Study suggests that sneezing more than usual could be a sign of COVID-19 but only in vaccinated individuals… Sneezing is not usually a symptom of COVID-19 and more likely to be a sign of a common cold or an allergy.Although many people with COVID-19 can sneeze, it is not a definitive symptom because sneezing is very common, especially in warmer months where people can get hay fever."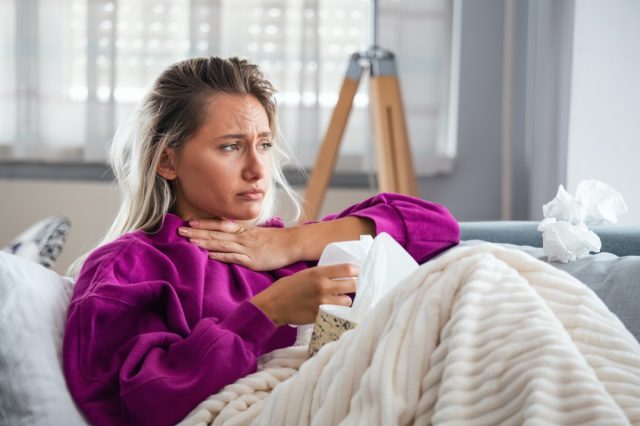 The Research ZOE COVID Statuses. "People who use the app have reported a sore throat similar to what you might experience with a cold or laryngitis. COVID-related sore throats tend to be relatively mild and do not last long. more than 5 days A very sore throat that persists for more than five days could be something else, such as a bacterial infection, so don't hesitate to contact your GP if the problem persists. It's important to remember that sore throats are very common and are caused by many respiratory illnesses like the common cold, so although many people with COVID-19 develop a sore throat, most people with sore throats will. don't have COVID-19."
RELATED: Failure to remember this could be a sign of dementia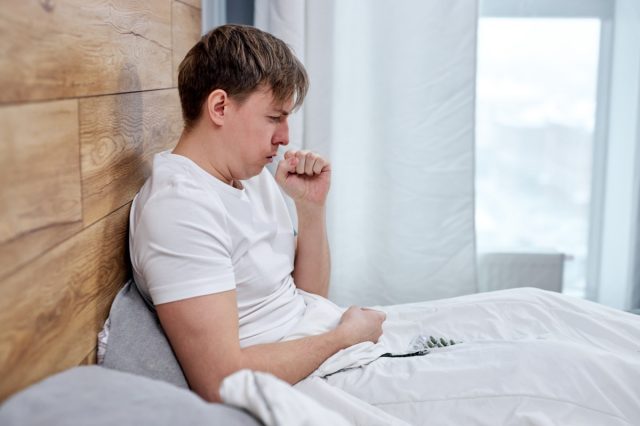 Data from Research ZOE COVID shows, "A persistent cough is widely known to be one of the three 'classic' symptoms of COVID-19, along with fever and loss of smell, even though only about four out of ten people get sick with COVID- 19 will have a persistent cough. . In this context, persistent means coughing several times a day, for half a day or more. It can be difficult to realize you are coughing more than usual, so make sure you being mindful of yourself and those around you. If you have COVID-19 and start coughing up yellow or green ('gunk') sputum, this could be a sign of an additional bacterial infection in the lungs that needs to be treated. spread the coronavirus. If you have a cough that could be COVID-19, you must get tested and self-isolate. Whether you're sick or not, always make sure you cover your coughs – for example like when coughing into your elbow – and wearing Wear a face covering or mask to protect others. "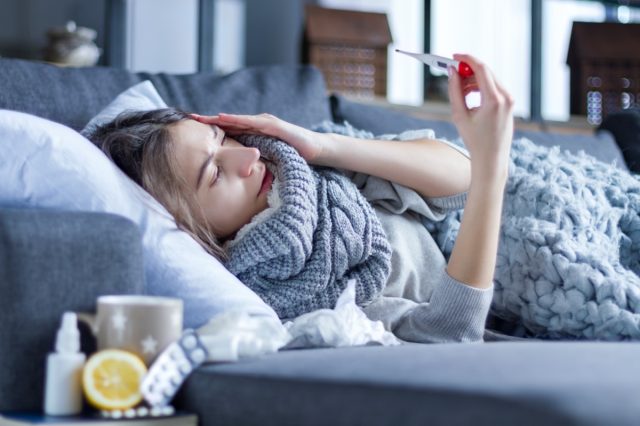 Fever is a common symptom of the virus Research ZOE COVID. The COVID symptom research app found that about four out of ten people reporting symptoms of COVID-19 have a high temperature (fever). Fever is not necessarily a bad thing. It's a normal response to an infection, as raising your body temperature helps your immune system fight it off.
If you're under 65, a temperature above 37.8°C could be a sign of COVID-19. If you are over 65 or very thin, your normal body temperature is likely to be lower, so a reading above 37.4°C should be considered a potential symptom. You can take your temperature at home with a thermometer – read our blog post to learn how. It's best to use an ear thermometer, but an oral (oral) thermometer will also work. Other devices such as smartphones may not be as reliable.
If you don't have a thermometer, the main tell-tale sign is that you're feeling hotter than usual, especially in your chest or back. You may also shiver or get chills. It's important to know that there's no such thing as a 'normal' body temperature, so get in the habit of checking your temperature regularly to see what's normal for you. Body temperature can also be affected by hormones, for example in women going through menopause.
RELATED: According to doctors, the number 1 reason for obesity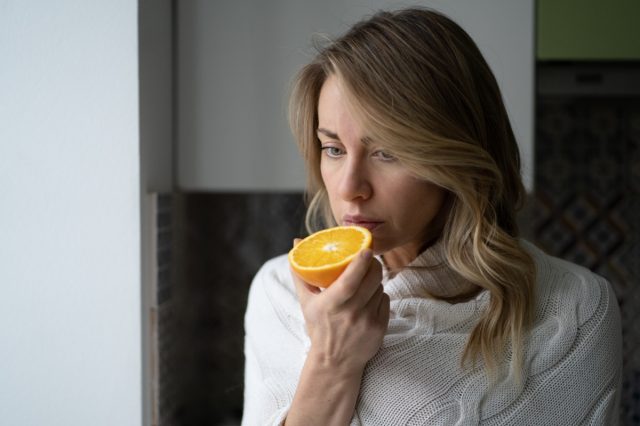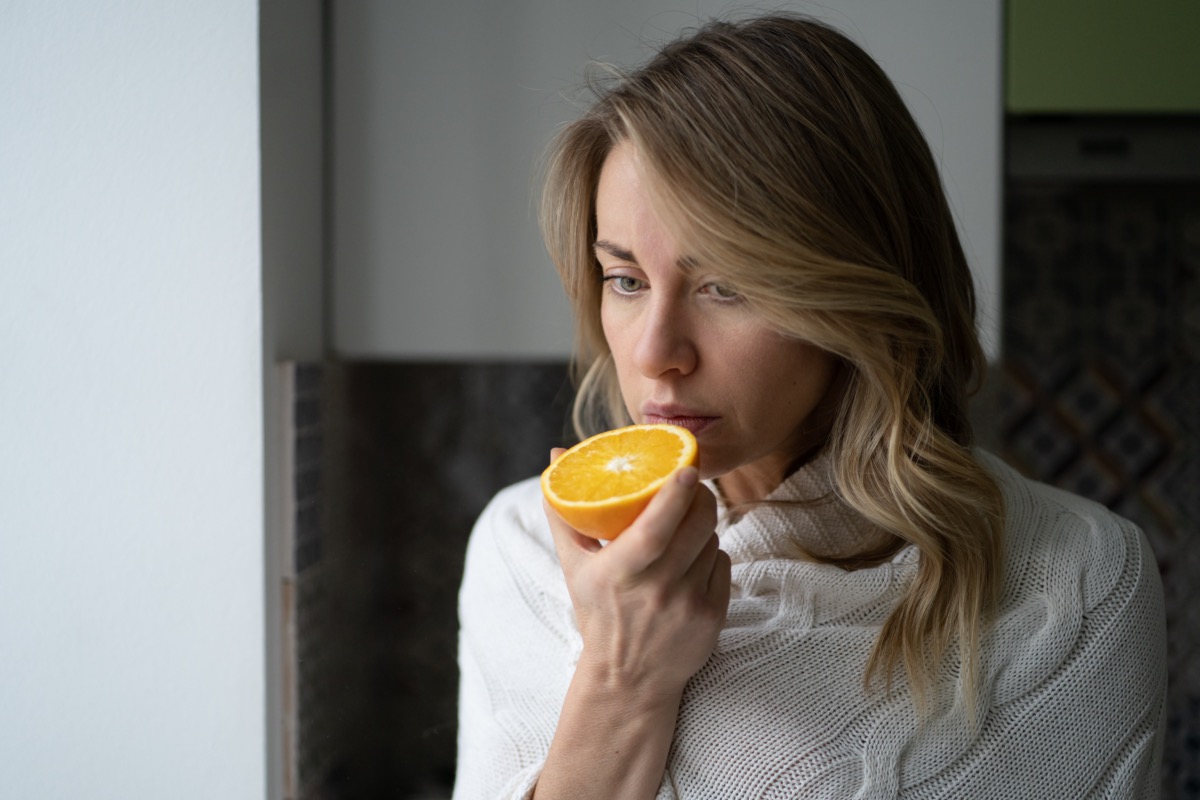 The Research ZOE COVID says, "Data from millions of users of the ZOE COVID Symptom Study app has shown that loss of smell can be a symptom of COVID-19. Here's how it's detected and what it feels like.
What is anemia in COVID-19 like?
The ZOE COVID Symptom Study app shows that many people with coronavirus have a loss of their sense of smell (anosmia) and/or taste.
Some users of the app have also reported that their sense of smell has not completely disappeared, but changed due to a COVID-19 infection that makes everything smell different than before.
If you have anemia or an altered sense of smell, you may notice that you can't smell things with strong aromas like coffee, flowers (or candles!). You may also notice that food tastes different than it should or seems tasteless (dyspepsia). "
RELATED: Daily habits that make you age, according to Science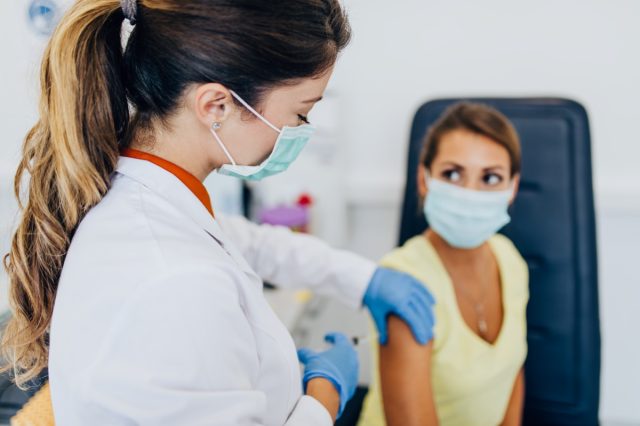 Follow basic public health principles and help end this pandemic, no matter where you live — get vaccinated as soon as possible; if you live in an area with low vaccination rates, wear an N95 face mask, do not travel, social distance, avoid large crowds, do not go indoors with people you do not live with (especially in bars), practice good hand hygiene and to save your life and others, don't visit any of these 35 places you're most likely to catch COVID.
https://www.eatthis.com/news-symptoms-most-covid-patients-have-now/ Symptoms That Most COVID Patients Have – Eat This Not That