Tears of Themis Stellis Reveries Guide – Tiered Pass, Rewards and more
The Tears of Themis Reverie is a recurring event that lasts about a month each. During this time, you can complete a variety of daily, weekly, biweekly, and event-length tasks in exchange for numerous rewards. Stellis Reveries are similar to the Battle Pass system in other games, so there are ways to get even better rewards by spending real money.
How do Reveries events work in Tears of Themis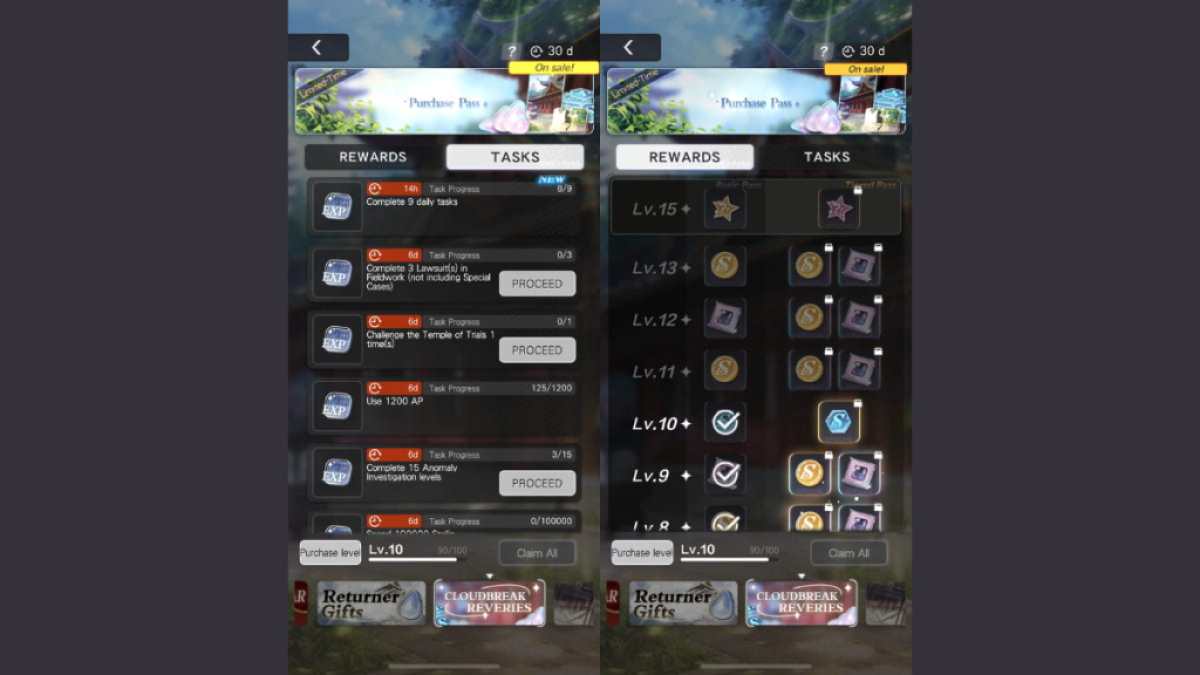 You can access ongoing Stellis Reveries by going to event menu and select the Reveries banner below. These change their names on each rotation, but always end with "Reveries" (i.e. Cloudbreak Reveries, Oasis Reveries, etc.).
Reveries are themed Battle Passes that typically update about every month, with a few days to a few weeks of downtime in between. These run for just over a month and consist of 50 levels, and you can claim rewards for leveling up. You can collect reverie EXP by completing tasks. It's best to prioritize daily tasks as they will expire together with the daily server reset.
There are two types of passes: the Basic Pass and the Tiered Pass. Everyone automatically gets access to Basic Pass rewards. But if you want to claim additional rewards, from skill-up materials, Tears of Themis, invites, backgrounds, and more, then you'll have to shell out money for the Tiered Pass.
Related: Tears of Themis Villa Rooms Guide – Blizzardous Threads of Red Event
How does the Tiered Pass work in the Tears of Themis Reveries events?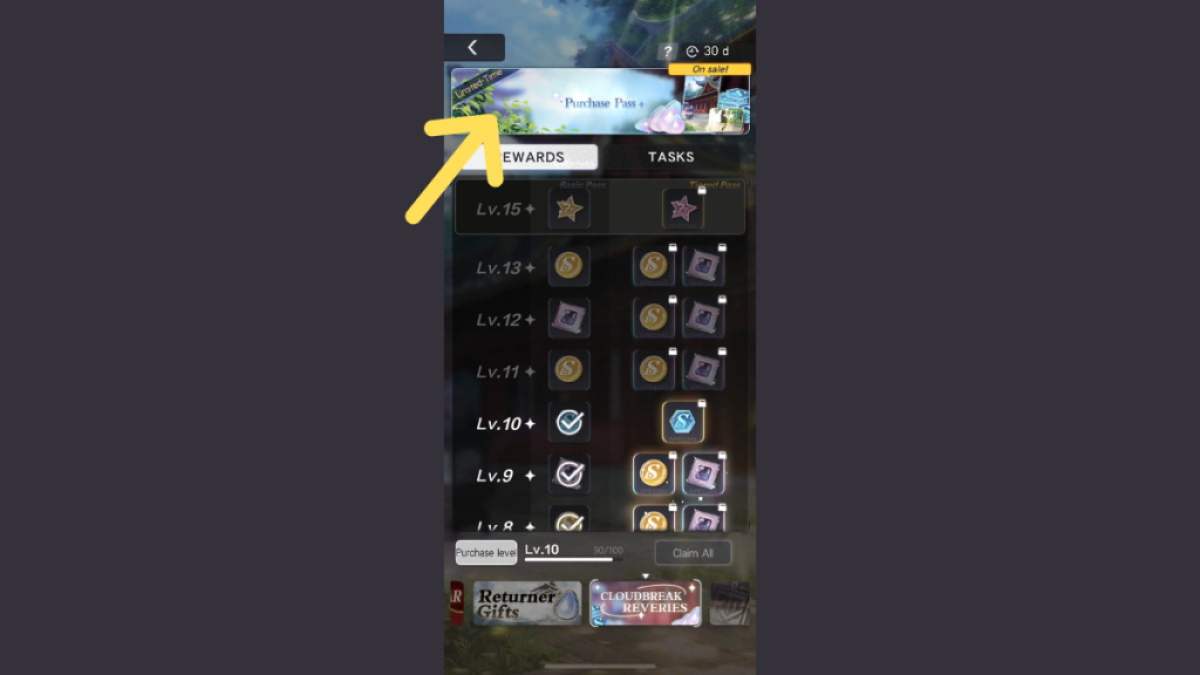 The Tiered Pass is a paid upgrade that grants you additional rewards for each level in the Reverie event. Prizes and notable rewards are as follows.
step pass – $7.99 regular price, $5.99 discounted price

x150 S-Chip – Claim x50 at level 10, x100 at level 20
x3 Tears of Themis – claim x1 each at levels 40, 45, 50
x1 Background – Claim level 30
x4 Selection Star MR – claim x1 each at levels 5, 15, 25, 35

Improved Tier Pass – $11.99 regular price, $8.99 discounted price

All rewards from the cheaper Tiered Pass – claim upon reaching level milestones
x1 Limited Namecard – Claim immediately after purchase
x2 Tears of Themis – claim immediately after purchase
x1,000 Home Deco Vouchers – redeem immediately after purchase
x1,500 Reveries EXP – claim directly upon purchase
Remember that you still have to do this Farm Reverie EXP to get rewards (excluding the additional rewards from the upgraded Tiered Pass), so it's only worth buying these if you expect to be active throughout the event period.
The background from the cheaper Tiered Pass can later be purchased in the mall at a higher price, while the namecard from the more expensive Tiered Pass can never be obtained after the Reverie event ends.
Related: How to get and use the login slip in Tears of Themis
How to get a tier pass discount in Tears of Themis Reveries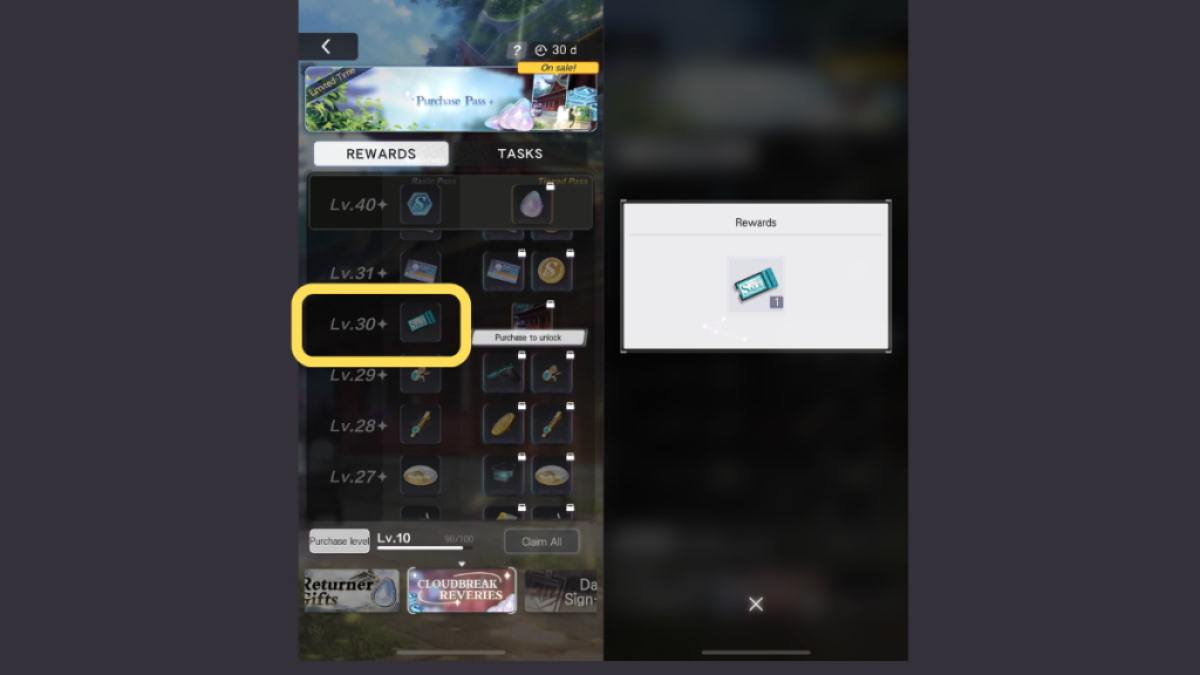 Upon reaching level 30 of the current Reveries event you will receive one Reveries discount coupon. This coupon can only be used to get a Tier Pass discount in next Reveries event. For example, suppose these three Reveries events come out in order:
Cozy reverie
Cloudburst reverie
spring reverie
In the above case, the discount coupon you receive from Cozy Reveries can be used to purchase the Cloudbreak Reveries Tier Passes at a lower price. Once the Springtime Reveries event begins, the discount coupon you received from Cozy Reveveres will expire.
For more rewards, check out our Tears of Themis Daily Check-in Guide here on Pro Game Guides.
https://progameguides.com/tears-of-themis/tears-of-themis-stellis-reveries-guide-tiered-pass-rewards-more/ Tears of Themis Stellis Reveries Guide – Tiered Pass, Rewards and more