Teaser for the Netflix series "Scott Pilgrim" shows the cast of the film in animated form
I hope you have some extra quarters handy because Scott Pilgrim Takes Off is almost here. And to make sure you get even more excited, you can check out the awesome new trailer above. The animated series starts on November 17th on Netflix.
There's not much on the plot in the teaser, but you can see all your favorite characters, including Scott (Michael Cera), Ramona (Mary Elizabeth Winstead), and Lucas Lee (Chris Evans), join in all sorts of brand new quips. The official transcript reads: "Scott Pilgrim meets the girl of his dreams, Ramona Flowers, but learns that in order to date her he must defeat her seven evil exes. Then it gets even more complicated."
The stunning animation (by Japanese studio Science SARU) is reminiscent of both the comic book and the film, which was inspired by cartoons and video games. Of course, there's also rocking new music, featuring original songs by Anamanaguchi (who composed the music for the cult video game Scott Pilgrim vs. the World: The Game) and music by Anamanaguchi and Joseph Trapanese.
Satya Bhabha, Kieran Culkin, Anna Kendrick, Brie Larson, Alison Pill, Aubrey Plaza, Brandon Routh, Jason Schwartzman, Johnny Simmons, Mark Webber, Mae Whitman, and Ellen Wong also lend their voices to the series, returning to the characters they inspired portrayed (in live-action) in "Scott Pilgrim vs. the World" in 2010.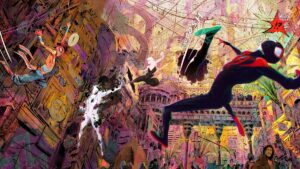 The new animated series comes from original comics creator Bryan Lee O'Malley and BenDavid Grabinski (writer/director of "Happily" and creator of the revival of "Are You Afraid of the Dark?") serving as writers/showrunners/executors Producers of Scott Pilgrim Takes Off. Scott Pilgrim vs. the World director Edgar Wright is executive producing alongside Marc Platt, Jared LeBoff, Adam Siegel, Michael Bacall, Nira Park and Eunyoung Choi. Science SARU's Abel Gongora directed all eight episodes.
Scott Pilgrim began as a series of black-and-white manga-style graphic novels that O'Malley wrote and drew beginning in 2004. (The last book came out in 2010, around the time the film came out. ) Since then, the books have been colorized and re-released, and the film, which was not a huge success when it was released by Universal, has become a true cult classic.
Scott Pilgrim Takes Off starts November 17 on Netflix.