The battle for second place heated up, but the third GOP debate didn't dampen Trump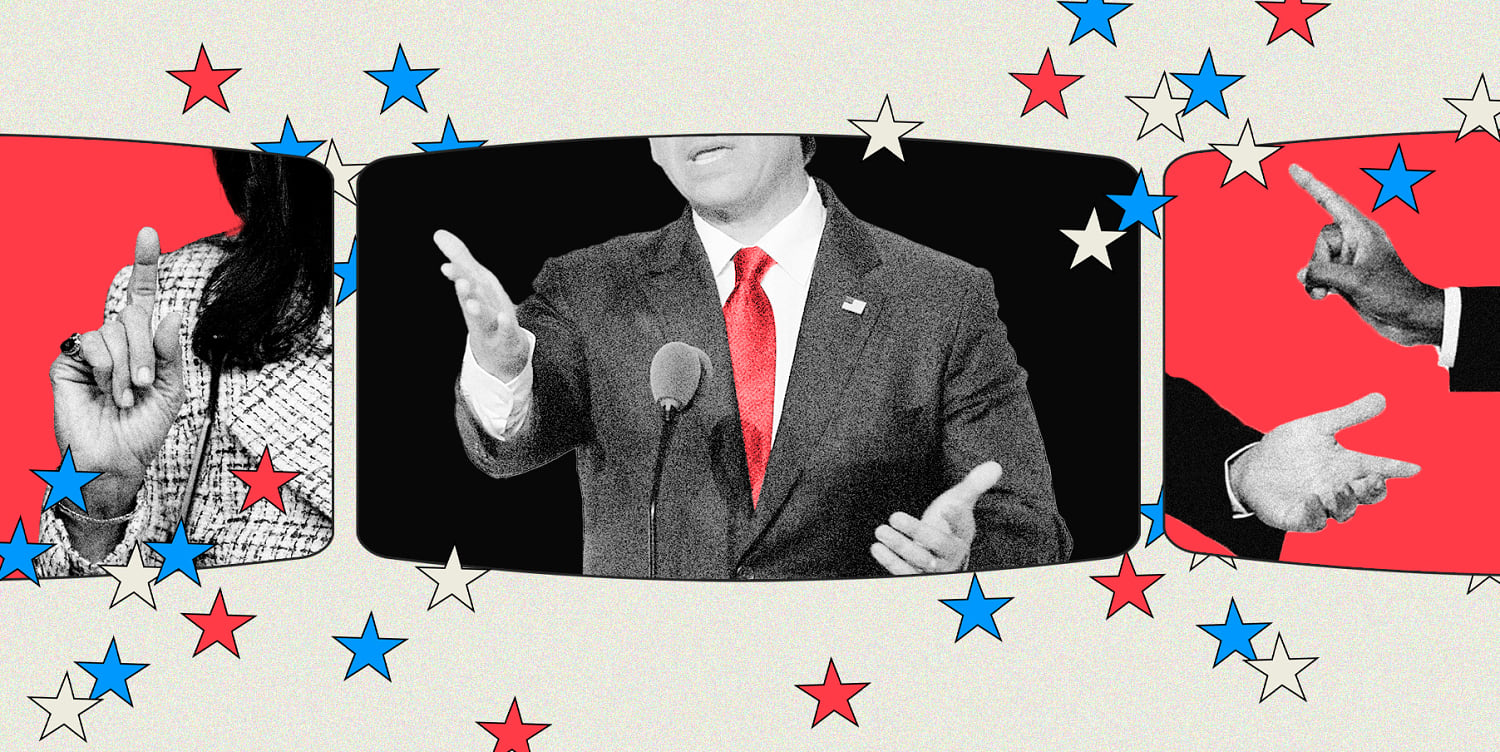 MIAMI – Former President Donald Trump's two main rivals for the Republican nomination cautiously criticized him at an NBC News debate here Wednesday night as they continued to distance themselves from the rest of the field.
Florida Gov. Ron DeSantis and former U.N. Ambassador Nikki Haley battled it out but tiptoed around Trump — leaving the persistent question of how either will threaten his wide lead in national and state polls.
"Both candidates seemed poised to lead the country in serious times," said Republican strategist Matthew Bartlett. "We are now coming to a point where the GOP must decide whether to nominate a legitimate candidate for president or an incendiary figure who may be a political opioid to the right-wing masses as they head toward another electoral defeat ." Crate."
So far the answer has been Trump. For the third time in three debates, Trump skipped the stage. Instead, Trump, who regularly beats DeSantis by 35 percentage points or more and Haley by larger margins in national polls, held a raucous rally in nearby Hialeah on Wednesday evening.
Still, DeSantis and Haley both offered tame contrasts to Trump — certainly less bombastic than the way he attacked them.
"Donald Trump is a very different guy than he was in 2016. He owes it to you to stand on this stage and explain why he should be given another chance," DeSantis said. "He should explain why he didn't let Mexico pay for the border wall. He should explain why he has accumulated so much debt. He should explain why he didn't drain the swamp."
And, DeSantis added, Trump promised Republicans would be tired of winning, but Tuesday's off-year election showed that wasn't the case. "I'm tired of Republicans losing," he said.
Haley was even less aggressive in her criticism.
"I can tell you that I think he was the right president at the right time. I don't think he's the right president now," she said. "I think he put us $8 trillion in debt and our children will never forgive us. I think the fact that he used to be right on the Ukraine and foreign issues is now slowly softening and trying to be kind again.
Two other candidates, former New Jersey Gov. Chris Christie and Sen. Tim Scott of South Carolina – the worst-performing contenders – temporarily faded into the background. Vivek Ramaswamy, a first-time candidate, might have suffered the same fate had he not fired rhetorical missiles at DeSantis, Haley and Republican National Committee Chairwoman Ronna McDaniel, who was not on the stage.
But Ramaswamy's attacks on fellow candidates — and Haley's daughter — didn't go over well in the debate hall at the Adrienne Arsht Center for the Performing Arts.
Haley called Ramaswamy "scum" for mentioning her daughter.
She and DeSantis clashed twice, with DeSantis prevailing over Haley on China and Haley clashing over energy policy.
"She welcomed them to South Carolina and gave them land near a military base," DeSantis said of development incentives South Carolina gave to a Chinese company when Haley was governor. He added that she "wrote a love letter to the Chinese ambassador saying what great friends they were."
Haley later pushed back when DeSantis announced his support for energy exploration and pointed to his efforts to stop hydraulic fracturing, or fracking, in the Everglades. She admonished him for trying to "pretend he wasn't a liberal" on the issue.
"You always were. Just be honest if that's the case, but don't keep saying you're something you're not," she said.
But in most questions from moderators Lester Holt and Kristen Welker of NBC News and Hugh Hewitt of Salem Radio Network, there were few key substantive differences between Haley and DeSantis.
For example, both expressed full support for Israel in the war against Hamas, pledged to fight drug cartels – including with military force – and indicated that they would prefer to regulate abortion restrictions at the state level.
Their allies even reacted in kind to the political significance of the debate: each side declared its own candidate to be Trump's clear deputy. The dynamic only reinforced Trump's dominance of the field and the inability of DeSantis and Haley to shake each other off.
Former Rep. Will Hurd, R-Texas, a former rival who has endorsed Haley, said DeSantis and Ramaswamy's shots at her confirmed the surge she has seen in state polls that now have her in Iowa along with DeSantis ranked second and alone is second in New Hampshire and South Carolina.
"Well, the fact that everyone went out and attacked Ambassador Haley tonight is a sign that they realize that her rise is real, that this is really a one-on-one with Donald Trump and Nikki Haley takes action," Hurd said.
Likewise, DeSantis' allies were encouraged by his debate performance.
"DeSantis seemed to be above the fray," said DeSantis donor Dan Eberhart. "He was calm, measured and presidential. He has shown that he is the only alternative to Donald Trump."
McDaniel, who called on Ramaswamy to resign as head of the RNC during the debate stage, said she wasn't bothered by the lack of discussion about Trump – who first appointed her to the RNC.
"I agree with that. I would rather talk about Joe Biden. I want to talk about the policies that matter to Americans," McDaniel told NBC News. "Obviously this was a change from where we were a month ago." What happened in Israel. And when NBC and I discussed this, we really felt like this was the right time for us to seize the moment and make the debate more political, and I think they delivered."
Republican strategists who spoke to NBC News after the debate said DeSantis and Haley were in a class of their own – but that it wouldn't matter because Trump wasn't there and he wasn't seriously harmed by his absence.
"Haley and DeSantis clearly stand out on this stage," said a veteran GOP strategist who has not joined a campaign. "Nothing matters tonight [of the] Panthers-Bears begin a tough Thursday Night Football game in 22 hours."