The search for former NFL player Sergio Brown continues as police investigate his mother's murder. Here's what we know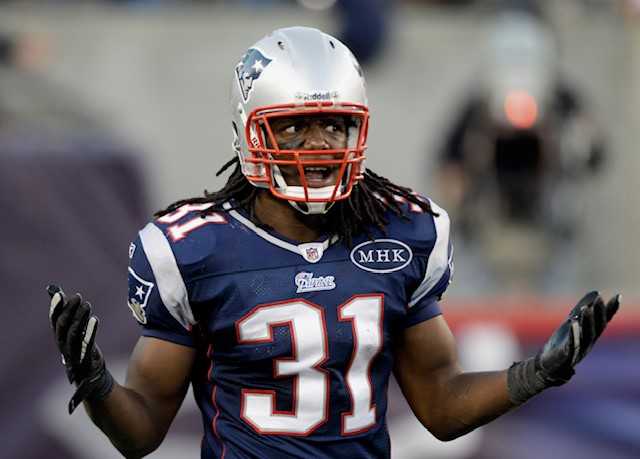 The Maywood Police Department says the search for former NFL player Sergio Brown continues after his mother was found dead with bodily injuries near a creek behind their suburban Chicago home. The body of 73-year-old Myrtle Brown was discovered Saturday after relatives said in a news release that they informed authorities that they were unable to find or contact her or her son. Her death was ruled a homicide, according to the Cook County Medical Examiner's Office. It is unclear what led to her death and authorities have not provided any information about a possible suspect in the case. As the investigation continues, the grieving family has appealed for help finding Sergio Brown. "My brother Sergio is still missing," Nick Brown wrote on Instagram. "If anyone knows where he is, I want them to know that I love you and to please come home." Sergio Brown, 35, played for Notre Dame before signing with the New England as an undrafted free agent in 2010 Patriots signed. He played seven seasons in the NFL as a member of the Patriots, Indianapolis Colts, Jacksonville Jaguars and Buffalo Bills. Here's what we know about the death investigation and the search for Sergio Brown: Mother's injuries are consistent with an assault, coroner says. Police found Myrtle Brown's body near a creek. According to the department, it was located behind her home on Saturday. The Cook County medical examiner's office determined she died from injuries consistent with an assault, and the manner of death was ruled a homicide, according to spokeswoman Natalia Derevyanny. The medical examiner's office did not provide details about the nature of the mother's injuries. Both mother and son reported missing on Saturday. Family members of Sergio Brown and his mother told police Saturday that they had been unable to locate or contact either of them, according to Maywood police. "I filed a missing persons report and began making attempts to locate both individuals," said the police in a press release. Relatives were also looking for Myrtle, neighbor Carlos Cortez told WBBM. "Her family came and knocked on the door looking for her because she filed a police report because she was missing for 72 hours. So we tried to help them as much as we could," Cortez said. Cortez, who said he provided police with his Ring doorbell recordings, said he last saw the Browns on Thursday, WBBM reported. Family asks for help finding former NFL player Sergio Brown On Sunday, his brother asked for help finding him on Instagram and thanked community members for their condolences. "If you have any information about Sergio's whereabouts, please send it to the Maywood Police Department," Nick Brown said. Nick Brown asked people to avoid approaching the family property while the investigation continues. The residential street in Maywood – about 11 miles from the heart of Chicago – was seen in video cordoned off with police tape as officers responded, video from CNN affiliate WBBM shows: "Guys, please." Don't come near the property, the Maywood Police Department's investigation is ongoing," he wrote. Who was Myrtle Brown? Neighbors described Myrtle as an elegant, outgoing person and someone who enjoyed dancing. "Simply wonderful." Lady. Very quiet, sociable. Always on the go," neighbor Kevin Grayer told CNN affiliate WLS. "Just a happy person. Her personality was just wonderful." "She didn't deserve that. She was too good a person to die like that. "It's just sad," Grayer said. Her son Nick Brown said his last conversation with his mother gave him hope. "It's a sad but hopeful time and we'll all get through this together." Mom always told me, 'Hard times don't last' and our recent conversation about how hard times are temporary is a glimmer of hope for me ", he said. "Mom, thank you for being strong, caring, hardworking, edgy, funny and… for saving my art. I will not disappoint you."
The Maywood Police Department says the search for former NFL player Sergio Brown continues after his mother was found dead with bodily injuries near a creek behind their suburban Chicago home.
The body of 73-year-old Myrtle Brown was discovered Saturday after relatives informed authorities that they could not find or contact her or her son, the agency said in a news release.
Her death was ruled a homicide, according to the Cook County Medical Examiner's Office. It is unclear what led to her death and authorities have not provided any information about a possible suspect in the case.
As the investigation continues, the grieving family has appealed for help finding Sergio Brown.
"My brother Sergio is still missing," Nick Brown wrote on Instagram. "If anyone knows where he is, I want them to know that I love you and to please come home."
Sergio Brown, 35, played for Notre Dame before signing with the New England Patriots as an undrafted free agent in 2010. He played seven seasons in the NFL as a member of the Patriots, Indianapolis Colts, Jacksonville Jaguars and Buffalo Bills.
Here's what we know about the death investigation and the search for Sergio Brown:
The mother's injuries are consistent with an attack, the coroner says
According to police, police found Myrtle Brown's body Saturday near a creek behind her home.
The Cook County medical examiner's office concluded she died from injuries consistent with an assault, and the manner of death was ruled a homicide, according to spokeswoman Natalia Derevyanny.
The medical examiner's office did not provide details about the nature of the mother's injuries.
Mother and son were reported missing on Saturday
Family members of Sergio Brown and his mother told police Saturday that they were unable to locate or contact either of them, according to Maywood police.
"Maywood police officers initiated a missing persons report and began attempts to locate both individuals," a police news release said.
Relatives were also looking for Myrtle, neighbor Carlos Cortez told WBBM.
"Her family came and knocked on the door looking for her because they filed a police report because she had been missing for 72 hours. So we tried to help them as much as we could," Cortez said.
Cortez, who said he provided police with his Ring doorbell recordings, said he last saw the Browns on Thursday, WBBM reported.
Family asks for help finding former NFL player
Sergio Brown's brother took to Instagram on Sunday to ask for help finding him and thanked community members for their condolences.
"If you have any information about Sergio's whereabouts, please send it to the Maywood Police Department," Nick Brown said.
Nick Brown urged people not to approach the family's property while the investigation continues.
The residential street in Maywood – about 11 miles from the heart of Chicago – was seen in video cordoned off with police tape as officers responded, video from CNN affiliate WBBM shows.
"Folks, please do not come near the property, the Maywood Police Department's investigation is ongoing," he wrote.
Who was Myrtle Brown?
Neighbors described Myrtle as a smartly dressed, outgoing person and someone who enjoyed dancing.
"Just a nice lady. Very quiet, sociable. Always on the go," neighbor Kevin Grayer told CNN affiliate WLS. "Just a happy person. Her personality was just wonderful."
"She doesn't deserve this. She was too good a person to die like that. "It's just sad," Grayer said.
Her son Nick Brown said his last conversation with his mother gave him hope.
"It is a sad but hopeful time and we will all get through it together. "Mom always told me, 'Hard times don't last,' and our recent conversation about how hard times are temporary is a glimmer of hope for me," he said.
"Mom, thank you for being strong, caring, hardworking, edgy, funny and for saving my art. I will not disappoint you."