Where to get the hammer in Rune Factory 5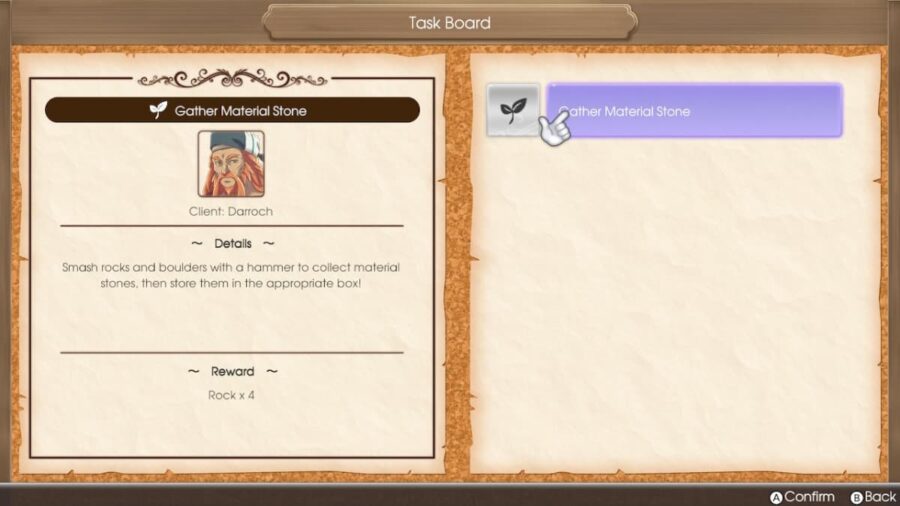 Screenshot of Pro Game Guides
To get a hammer in Rune Factory 5, you must first complete a task for the blacksmith. The task is collecting material stones for a customer named Darroch (the blacksmith). You can get this task by going to the Task Board outside of the Seed HQ.
However, the task of collecting material stones will not appear until you complete a few tasks. So, for the task to show up, you need to go to the task board and delete some tasks until it shows up.
Related: How to marry Ryker in Rune Factory 5
How to get the hammer in Rune Factory 5
After a few tasks, you can get the hammer by searching for the task labeled Gather Material Stone. Complete the task and you will get the hammer as a reward. Luckily the task is pretty easy, once you accept it you will get it hammer and have to smash some rocks with it.
You can do this by going to your square and hitting the next one rock or boulder with the hammer. After that you have to go back to the task board and turn in the task to complete it.
Once you turn in the job, you get the hammer in Rune Factory 5. But what is the hammer for anyway? Well it's pretty simple, the main purpose of the hammer is erasing big boulders and small rocks in your area.
To learn more about Rune Factory 5, we at PGG have provided you with guides like How to Marry Murakumo in Rune Factory 5 and How to Tame Monsters in Rune Factory 5
https://progameguides.com/rune-factory-5/where-to-get-the-hammer-in-rune-factory-5/ Where to get the hammer in Rune Factory 5