Who's performing tonight, how to watch and more
Cardi B gushes over Megan Thee Stallion
During a pre-show interview, Cardi B said "hip-hop is everything" to her.
She gave a shout out to her hometown of the Bronx, the birthplace of the genre.
Tonight, there will be a celebratory performance commemorating the 50th anniversary of hip hop.
Cardi B also shared her appreciation for "Bongos" collaborator Megan Thee Stallion.
"We work so great together. She's hardworking, I'm hardworking … she trusts me and I trust her," she said of their friendship.
The two rappers are also expected to perform their new single tonight.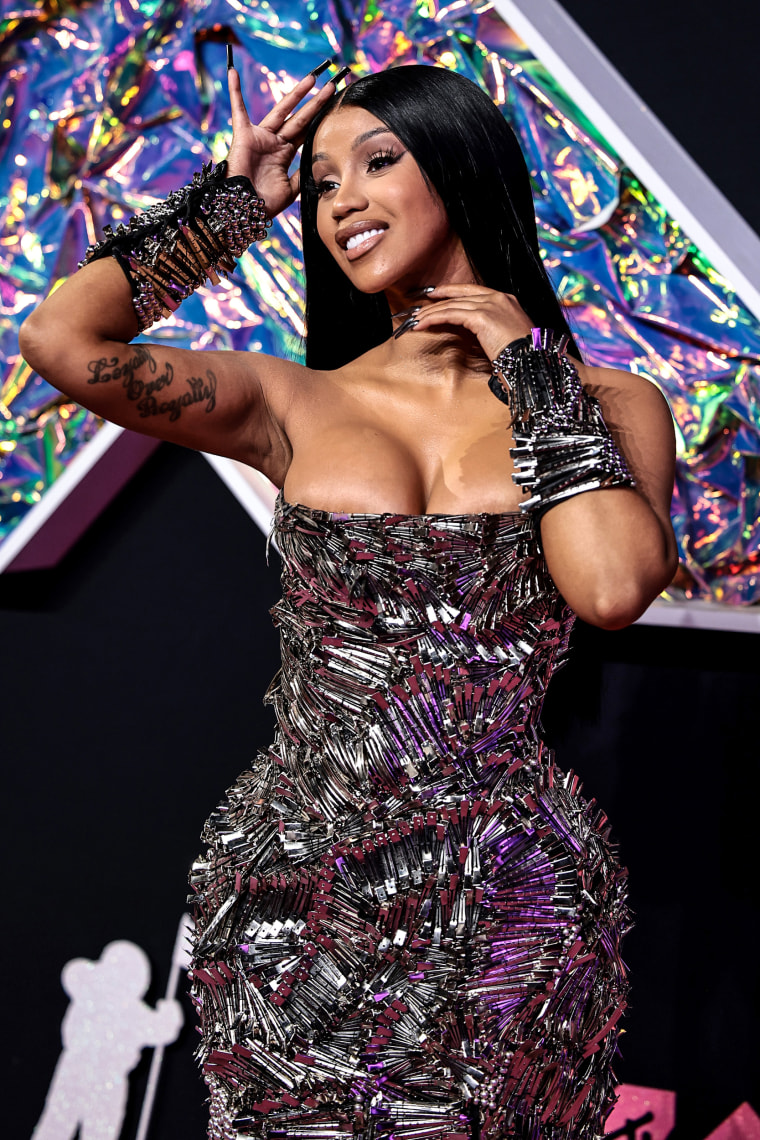 Is tonight going to be a nostalgia fest?
It already feels like the VMAs are leaning into (and possibly relying on?) nostalgia by previewing this hip-hop tribute and having Nelly perform alongside NLE Choppa.
The inspo behind Saweetie's outfit
Saweetie says her pink look, featuring a bone (?), is "fresh off the runway." The inspiration is "caveman days" or "fashion when it first started.
She kind of looks like the yassification of "The Flintstones" and we're here for it.
Nelly performs at pre-show
Not us gasping at Nelly performing "Hot In Herre." This millennial is feeling nostalgic.
Megan Thee Stallion stuns ahead of her VMAs performance
Megan Thee Stallion is bringing hot girl energy in a custom Brandon Blackwood corset dress at the VMAs red carpet.
The rapper will be performing her new single "Bongos" featuring Cardi B later tonight.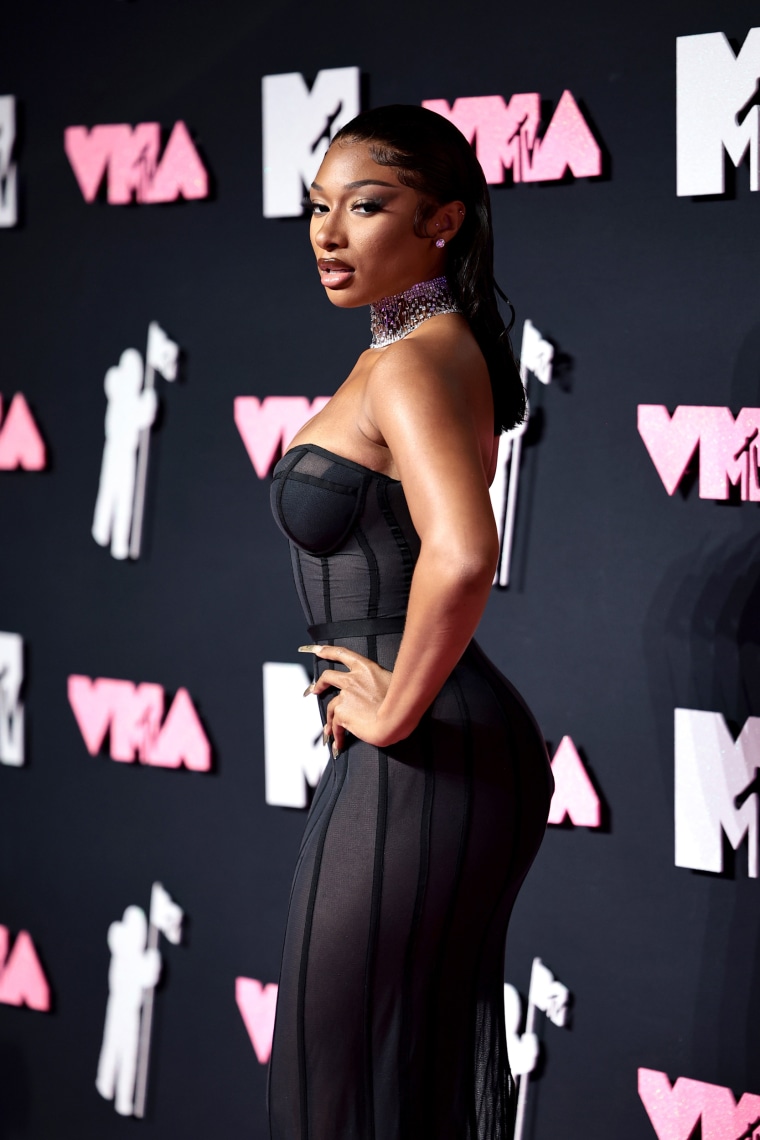 MTV's pre-show has kicked off
The pre-show has officially begun!
Hosted by Saweetie, the pre-show will actually reveal the night's first big winners in addition to interviews as stars begin to arrive on the pink carpet.
*NSYNC reunion? It's all we've ever wanted.
Beloved boy band *NSYNC is rumored to be reuniting at the VMAs.
Fans are convinced that the group is dropping a new song for the third installment of the "Trolls" franchise, and could be headed to the MTV awards show to promote it.
Justin Timberlake, the band's frontrunner, has voiced Branch in the films. The film's trailer teased a storyline about a boy band called "Brozone" getting back together.
("Trolls Band Together" is distributed by Universal Pictures and and DreamWorks Animation. NBC News and Universal Pictures are both owned by NBCUniversal).
We hope they don't tear up our hearts and that this rumor is true.
Karol G is sporting the cozy chic look
Karol G showed up to the pink carpet with pink hair and an outfit I'm extremely jealous of.
Karol, who is nominated for the Best Latin category tonight, showed up with a sheer gown and matching coat that honestly looks really comfortable. The Colombian superstar just absolutely kills in this look.
Although she's competing against Bad Bunny and her collaborated Shakira, Karol G is a real contender for tonight. Earlier this summer she broke a "TODAY" record by drawing more than 15,000 people to the plaza for the Citi Concert Series.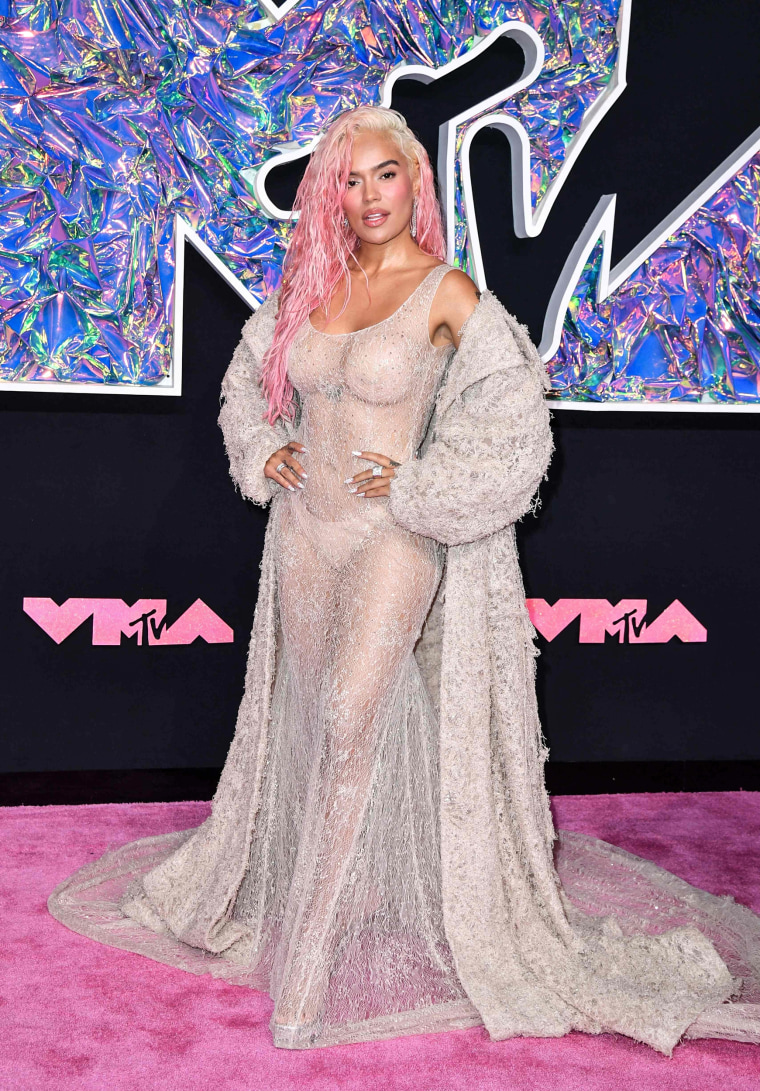 Olivia Rodrigo sparkles on the VMAs carpet
Olivia Rodrigo turned heads on the pink carpet with her sparkly outfit.
The pop star has made a lot of headlines lately with the release of her sophomore album, "Guts," and fan speculation surrounding who lyrics from some of the songs are about.
Many online continue to speculate that the "Driver's License" singer has a feud with Taylor Swift. The prolific female artists are up for several of the same categories this year — at a time when fans of both artists are relentlessly fanning the speculative flames.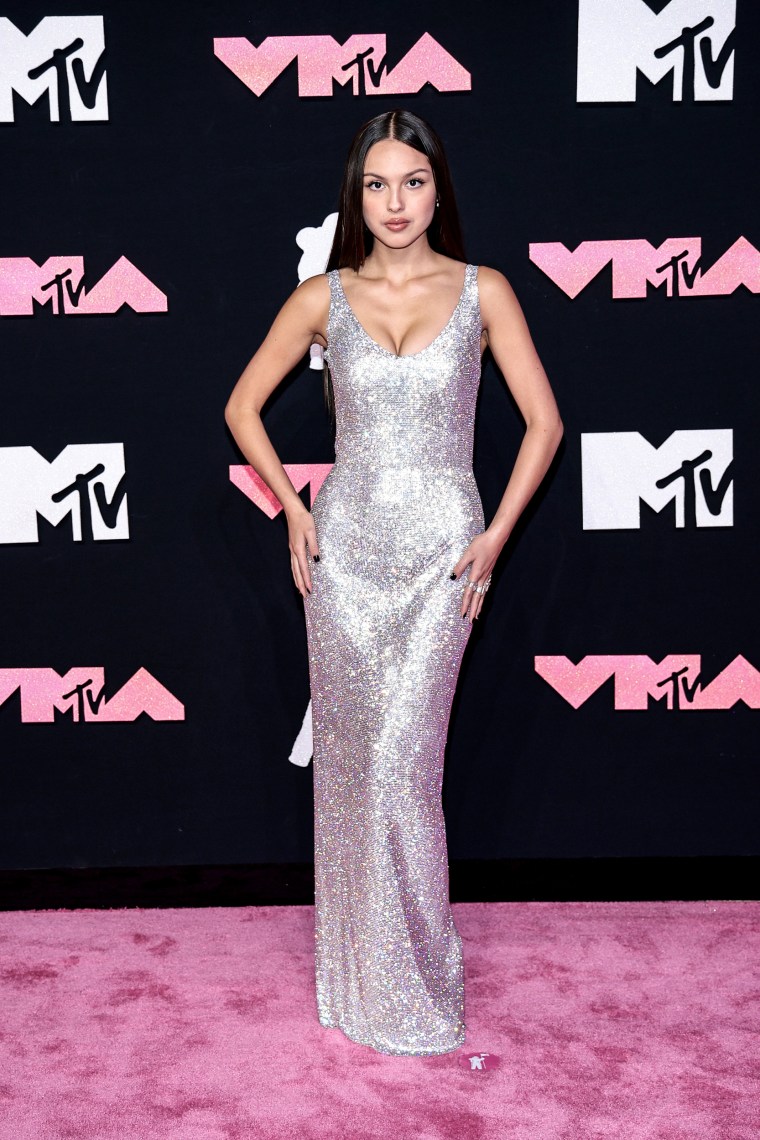 In 2021, Rodrigo raved about meeting Swift in person. Swift also sent Rodrigo a special gift. But after the release of her first album "Sour," fans sensed a vibe shift. Rodrigo ended up giving Swift and Jack Antonoff co-writing credits on her songs "1 Step Forward, 3 Steps Back" and "Deja Vu," which Rodrigo said she took inspiration from Swift's "New Year's Day" and "Cruel Summer," respectively.
Since that first album's release, Rodrigo has appeared to express less public adoration for Swift in social media posts.
In June, Rodrigo's single "Vampire" prompted some to theorize that the song was inspired by Swift and the music industry. When asked about it by The Guardian, Rodrigo said she was "surprised" people thought it was about Swift.
In an interview with Rolling Stone published today, Rodrigo finally addressed the rumors directly. "I don't have beef with anyone. I'm very chill. I keep to myself."
Sean 'Diddy' Combs is being honored with Global Icon Award
It's a big year for Combs at the VMAs.
The artist will receive the third-ever Global Icon Award, which MTV says "celebrates an artist or band whose unparalleled career and continued influence have achieved a unique level of global success in music and beyond."
Past recipients include the Foo Fighters and Red Hot Chili Peppers.
Combs, who is also nominated for four other awards, will also perform.
Are the VMAs irrelevant now?
Yesterday, the New York Post published this hot take: "Why the MTV VMAs — once the hottest awards show around — don't matter anymore." We, the NBC News team live blogging tonight, had some thoughts.
Doha: The VMAs are a casualty of a larger issue of awards shows slowly losing social relevance, either because they're too polished or because social media makes celebrities less reliant on traditional platforms to make news. Even still, the VMAs are the most enjoyable show in the genre and the show most focused on fans.
Kaetlyn: It's true that the VMAs might not "matter" as much as other awards shows, but that is exactly what makes them fun to watch. The VMAs don't have the gravity of the Oscars or the Grammys. It's not the biggest night in any industry, but that sets the celebs free in a way.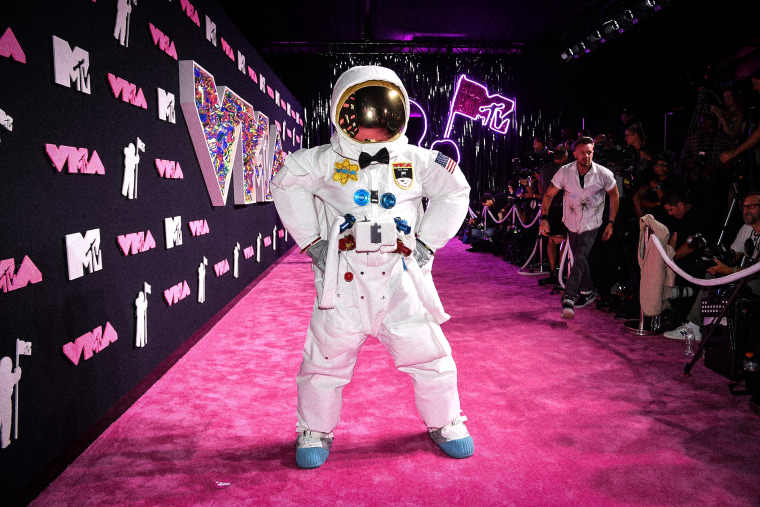 Brahmjot: I think the awards and categories themselves are unmemorable, but the VMAs have always been a pop culture gold mine for viewers to ogle, reminisce about and cringe at.
Angela: As MTV grows ever further removed from the way we consume music, I hope artists will take the VMAs as an opportunity to experiment more with live appearances even in the age of streaming.
Daysia: Once considered the night for iconic pop cultural moments, the VMAs are kind of in their flop era. When was the last time that the show truly delivered a provocative, dominating cultural moment? While it continues to provide solid live performances and has spawned a couple of memes in recent years, the awards show is losing touch with the culture. The issue could be that we've seen it all.
A decade ago, Miley Cyrus raised eyebrows with 'Blurred Lines'
We can't talk about jaw-dropping VMA moments without recounting Miley Cyrus' 2013 performance of "Blurred Lines" with Robin Thicke.
Cyrus was in only a pair of latex underwear at one point during the song, thrusting against a foam finger between her legs and later twerking against Thicke's crotch.
The scene was quite a scandal, and it was discussed in interviews for years. Cyrus was only two years out from the end of her Disney Channel show, "Hannah Montana," and people seemed to take some issue with her dramatic change in image.
In an interview with Ellen DeGeneres, Cyrus argued that no one seemed to take issue with Thicke even though he was well aware of the performance.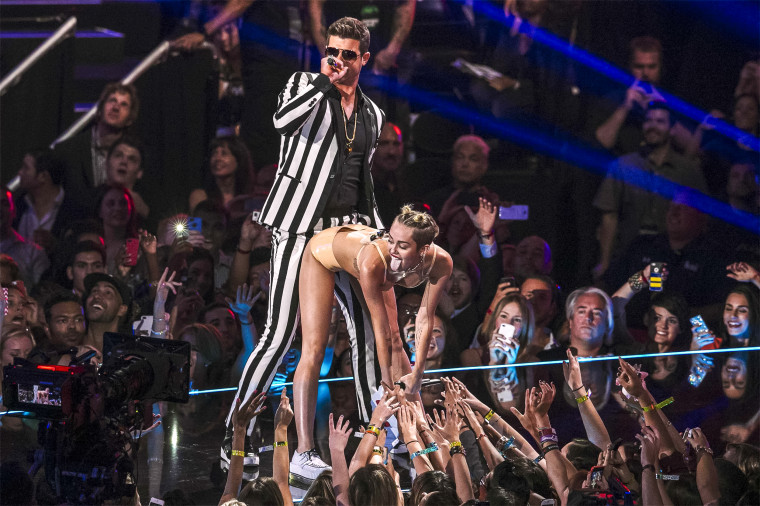 "I've just always been a very open person … so I've tried to wrap my head around what a normal person thinks of the performance, and I can't really understand where the shock comes from," Cyrus said. "I know that sounds crazy, but … I don't see anything more than what any other artist did that night."
Thicke told Oprah Winfrey that things can sometimes appear different during rehearsal and that the performance seemed more silly than sexual to him at the time.
"I guess I'm just not as normal as I thought I was," he said. "I wasn't offended by it personally, because I think some see that and they go, 'This is so sexual.' And to me, I'm sitting there going: 'This is whacky. This is funny to me.'"
Remember Rage Against the Machine's VMAs moment in 2000?
Awards shows are best remembered for their unscripted moments, including the 2000 VMAs, where a rockstar got arrested. Rage Against the Machine was nominated for best rock video but ultimately lost to Limp Bizkit's "Break Stuff."
As Limp Bizkit tried to accept the award, Rage Against the Machine bassist Tim Commerford climbed the scaffolding and sat on top of a large sculpture onstage. No one had any clue what was going on, though members of Limp Bizkit encouraged him to jump off the sculpture.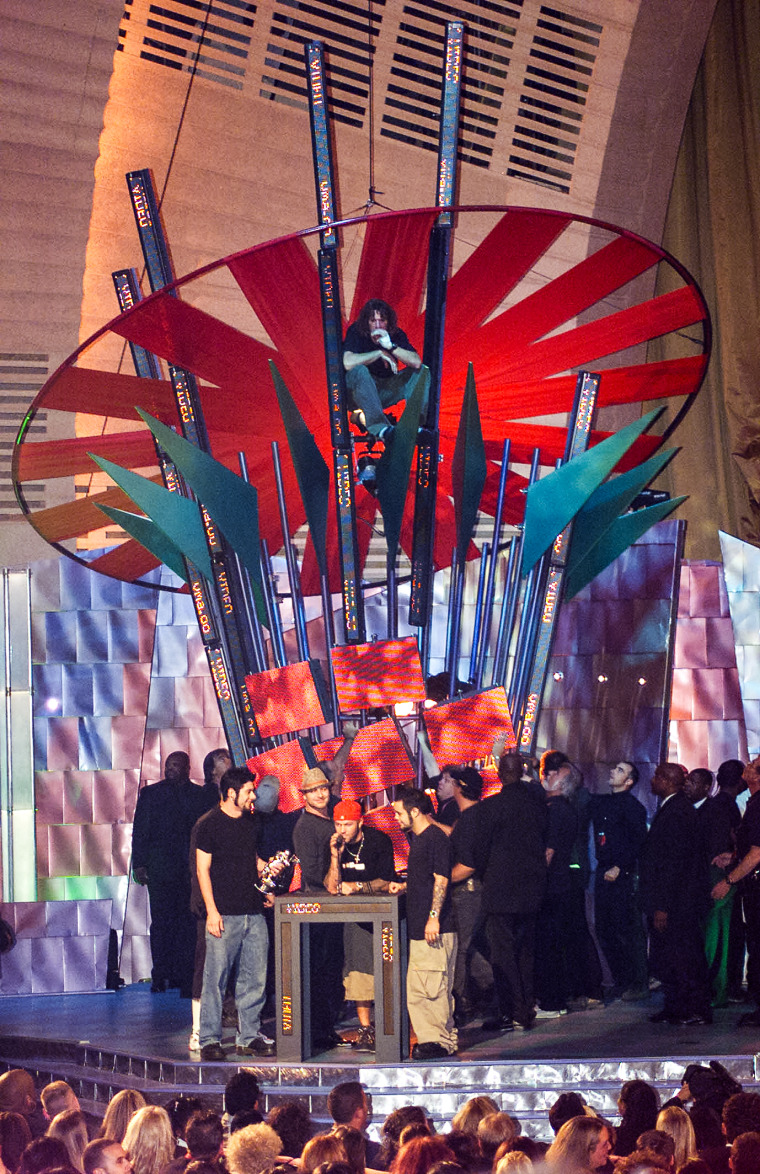 Toni Braxton and 98 Degrees stood dumbfounded as they went on to present the next award, and security was trying to get Commerford down.
Eventually Commerford was gotten down and arrested. Bandmate Tom Morello told Rolling Stone at the time that he felt police overreacted but that he believes Commerford was mistaken for a crazed fan.
In reality, he just didn't like Limp Bizkit. Commerford told Rolling Stone in 2015 that he had only one regret.
"I wish I would've swung on that thing and brought it to the ground and just destroyed it," he said. "If I could do it all over again, I would've ripped that thing to the ground and shredded it."
This 2003 onstage kiss is ingrained in pop culture history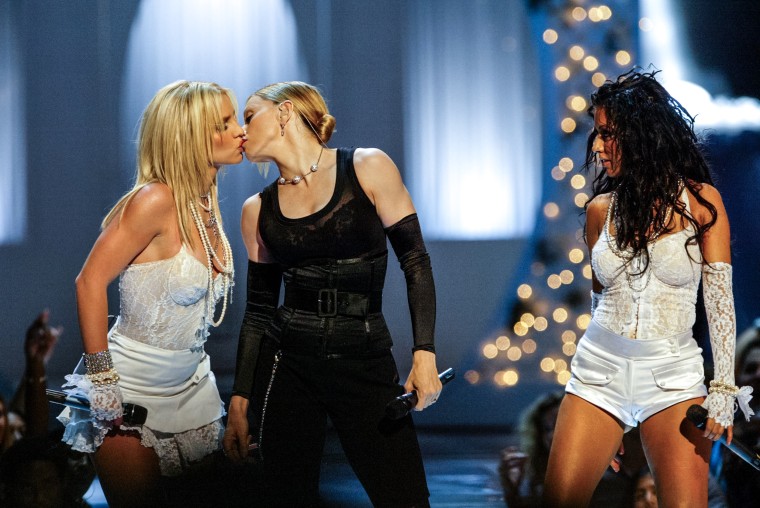 There's absolutely no argument that the most memorable VMA moment in history is the kiss heard 'round the world.
At the 2003 awards show, Madonna performed a mashup of her songs "Like A Virgin" and "Hollywood" with pop sensations Britney Spears and Christina Aguilera. At the very end, Madonna turned to Spears and kissed her before she turned to lay her lips on Aguilera, as well. 
Many people forget that Aguilera was also a part of the kiss, maybe because Spears got the shock value of being first. Either way, this is one image seared into pop culture history. 
Lady Gaga's meat dress from 2010 lives rent-free in our heads
Lady Gaga, she's got the meat.
Lady Gaga offered the world one of the most bizarre red carpet looks in fashion history at the 2010 VMAs. Gaga arrived in a dress covered in meat.
Yes, actual raw meat.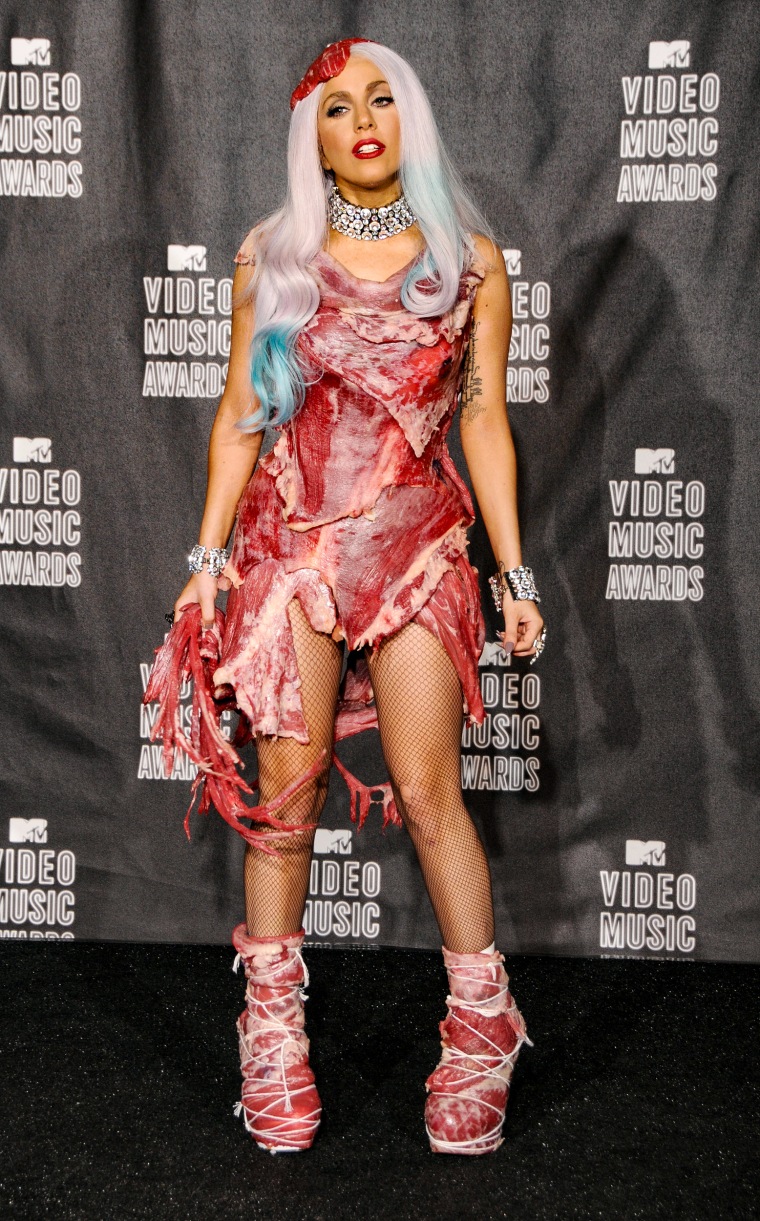 Gaga recounted the look in an interview with British Vogue in 2021, explaining that the dress was actually a corset that had meat sewn into it. The outfit was a protest of "don't ask, don't tell," a military policy that discriminated against queer service members and was ultimately repealed in 2011.
"We decided to do the meat dress because I thought to myself if you're willing to die for your country, what does it matter how you identify?" Gaga said.
Onstage, Gaga announced the name of her coming album, "Born This Way," and sang a snippet from the title track.
"How beautiful in my way, because God makes no mistakes. I'm on the right track, baby, I was born this way," she sang in the dress.
Swifties will never forget this VMAs moment
The VMAs may only be an elder millennial, but the awards ceremony has some iconic pop culture moments that we won't forget. As NBC News' chief Swiftie, I can tell you all about one uncomfortable September night in 2009 with great detail, but I'll spare you every detail.
Taylor Swift had just won best female video for "You Belong With Me," her first VMA win, when Ye jumped onstage. Ye, the artist formally known as Kanye West, grabbed the mic from Swift as she was giving her thank you speech.
"Yo Taylor, I'm really happy for you," he said. "Imma let you finish, but Beyoncé had one of the best videos of all time."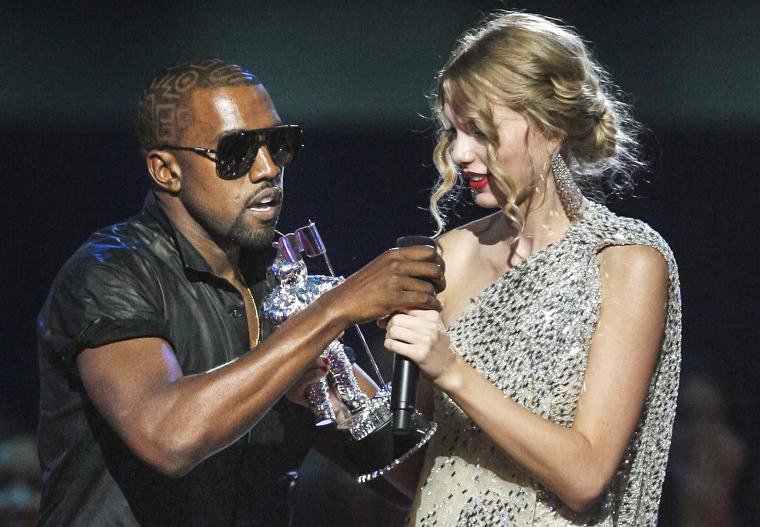 People booed. Beyoncé looked visibly uncomfortable. And Swift was devastated. Beyoncé went on to win the video of the year award and offered her time to Swift, who returned to a standing ovation. Beyoncé and Swift never appeared to have any bad blood between them following the incident, though the same can't be said for Swift and Ye.
The moment unwittingly opened a series of events that included a presidential dis, two "SNL" monologues, a naked wax figure of Swift, an edited phone call clip, an online fan war and an album dedicated to Swift's reputation (which she'll be re-recording soon). But I'm not going to talk about that in my blog post! La la la la la!
Who is performing at the VMAs this year?
Cardi B and Megan Thee Stallion will perform "Bongos"
Lil Wayne will perform his new song, "Kat Food," for the first time.
Olivia Rodrigo
Doja Cat
Demi Lovato
Kelsea Ballerini
Karol G
Stray Kids
Tomorrow X Together
Anitta
Måneskin
Fall Out Boy
Shakira
Diddy
Nicki Minaj, Lil Wayne, LL Cool J, Darryl "D.M.C." McDaniels, Doug E. Fresh and Grandmaster Flash and the Furious Five will also take the stage for a finale celebrating hip-hop's 50th anniversary.
Read more about the star-studded list of performers and nominations on Today.com.
'She Wolf' Shakira is ready for her award
Shakira is being honored with the Video Vanguard Award. She will also perform at the awards show for the first time since 2006.
We expect, per usual, that her hips won't lie. But looks like she's got a lot more in store, per an Instagram post from last week in which she shared: "POV when you're trying to cram an entire career into one #VMAs Vanguard performance."
Check out the song of the year nominees
"Flowers" by Miley Cyrus
"Vampire" by Olivia Rodrigo
"Calm Down" by Rema and Selena Gomez
"Unholy" by Sam Smith and Kim Petras
"Bad Habit" by Steve Lacy
"Kill Bill" by SZA
"Anti-Hero" by Taylor Swift
Taylor Swift is leading the most nominated artist this year
Here are the 11 categories the Eras Tour queen is nominated for:
Artist of the year
Video of the year, for "Anti-Hero" (She's won this category three times in 2015, 2019 and 2022.)
Song of the year
Best pop
Best direction
Best cinematography
Best visual effects
Best editing
Show of the summer
Song of summer
Album of the year
Who is the VMAs host this year?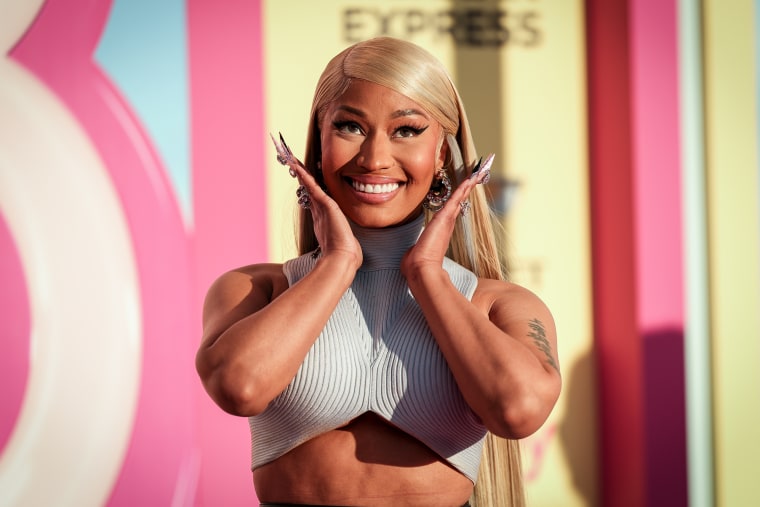 Technically, no one is "hosting" the VMAs this year. But Nicki Minaj is emceeing, as she did last year.
"Minaj will announce the show's star-studded lineup of performers, presenters and winners," MTV said in a news release.
If that sounds like a hosting gig, that's because it kind of is, without the title.
According to a source at MTV familiar with the awards show, no one can labeled as a "host" because of the Writers Guild of America and SAG-AFTRA strikes.