Windows 11 Build 22518 Preview Coming With New Features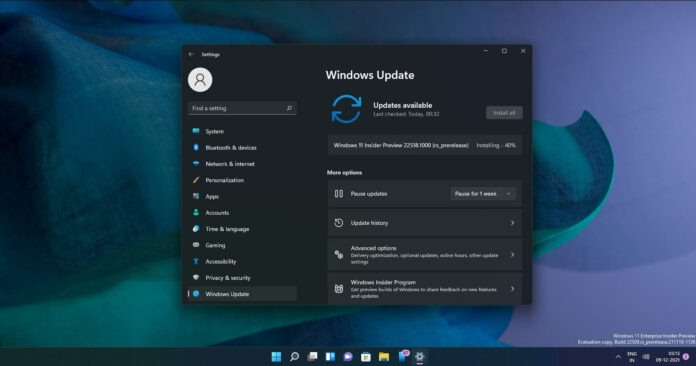 Windows 11 Build 22518 is now available to all Dev Channel testers. Unlike previous updates, Build 22518 actually comes with new features and a long list of improvements to key areas of the OS, including File Explorer, navigation, and more.
This update is titled "Windows 11 Insider Preview 22518.1000 (rs_prerelease)" and users can get it from Microsoft's servers by simply checking for updates. It should be noted that the new preview features in this release are not tied to a specific Windows release such as 22H2 (October 2022 Update).
That's because the Dev Channel used for the active development branch is codenamed "Nickel" at the moment. It's important to understand these experimental builds are often buggy, and you'll have the opportunity to leave the beta program and return to the stable version of Windows when the changes you're testing become part of a new release. specific action.
If it's been more than 10 days since you joined the program and it's no longer possible to switch back to the stable build, you'll need to reinstall the operating system using Windows 11 ISO images or the Media Creation Tool. Microsoft warns that a clean install will delete applications and some files on your computer.
Focus collection in Build 22518
As we reported earlier this year, Microsoft has been working on supporting Windows Spotlight for the desktop. Right now, you can use the Spotlight collection to regularly refresh your lock screen artwork with new beautiful photos from around the world, and also see interesting facts about each photo.
With Windows 11 Build 22518, Microsoft is bringing a similar experience to the desktop. To get started, you need to right-click on the desktop and select "Personalize".
This will open the "Personalization" tab in the Settings app, and you'll need to select "Background" in the "Personalize your background" drop-down menu. If you followed the steps correctly, you should be able to enable Spotlight gallery now.
Once done, the Windows desktop will automatically refresh with the new screenshots. Immediately, Microsoft will change the image image to attract the attention of 5 images in the world.
Like the lock screen, you can also hover over the Spotlight icon on the desktop to learn more about the image. You can even right-click the Spotlight icon to send feedback or change the image.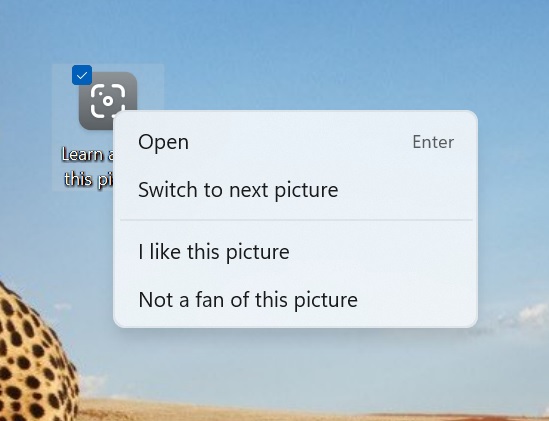 If you want to learn more about the topic, simply double-click the Spotlight icon to launch the knowledge panel in Microsoft Edge.
Microsoft is currently testing this feature in the following locations: United States, Canada, United Kingdom, Australia, India, Japan, Korea, Germany, Finland, France, Italy, Spain, Sweden, Norway and more countries will be added over time.
Voice Access
Microsoft is introducing a new Voice Access experience for Windows 11.
Based on the company's on-device machine learning and speech recognition technology, Windows 11's Voice Access feature will allow users to open and switch between apps, browse the web, and read email.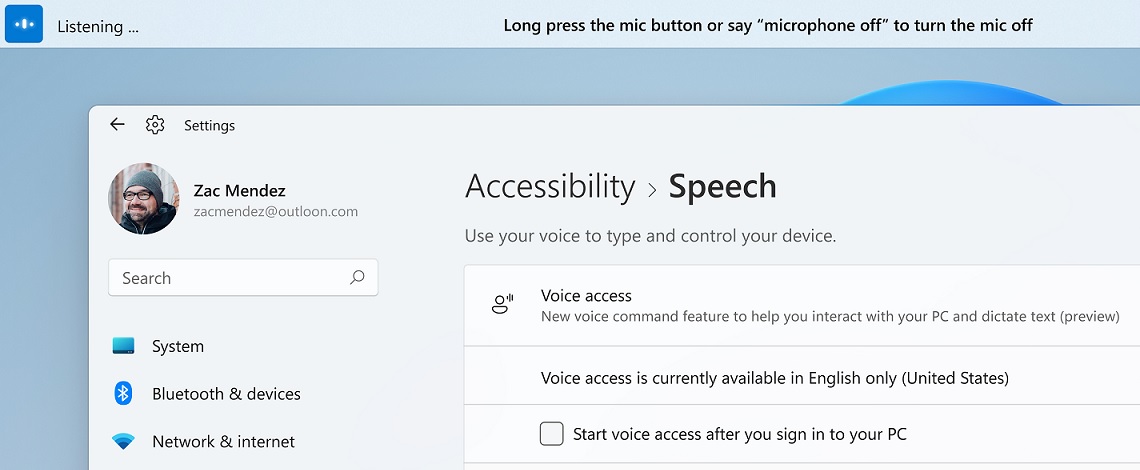 Microsoft says it will only support US English Your Windows display language must be set to US English for this to work. If your device is in another region or if you use English UK, this feature may not work properly.
Other improvements in Windows 11 Build 22518:
Microsoft is rolling out new personalized emojis. These new emojis will be based on the faces and skin tones of family members, and users can customize them. Microsoft is also rolling out emojis for couples with hearts, kisses, and people holding hands.
You can now display the clock and date on the taskbar of the secondary monitor.
Microsoft is adding a new extra-large candidate height option for IME users.
Microsoft is making some changes to address an issue where invisible window panes could block search inputs. In some cases, Windows Search recent files may get stuck on the screen.
The Windows Search results flyer will now have a tooltip describing its purpose.
Fixed an issue that resulted in Windows Search crashes.
How to install Windows 11 Build 22518
To install Windows 11 Build 22518, try these steps:
If you are using the stable build or Windows 11 or Windows 10, go to Install Windows and open Windows Insider Program navigation.
Switch to Development Channel.
Click "Check for updates".

The update will appear to download. Click the "Download and Install" button.
Once done, click "Restart now".
Known Issues in Build 22518 for Windows 11
Microsoft became aware of these known issues in Build 22518:
A bug can damage the DWM. When this happens, your screen will blink continuously.
The network icon will automatically disappear from the taskbar. This can be fixed by restarting Explorer.exe.
The Windows Search console may not open. Restart the "Windows Explorer" process to make it work again.
The widget panel may appear black or display at the incorrect resolution.
Other improvements
In addition to the new preview update, Microsoft has also published a new version of Notepad with support for more dark and other improvements.
https://www.windowslatest.com/2021/12/09/windows-11-build-22518-preview-is-rolling-out-with-new-features/ Windows 11 Build 22518 Preview Coming With New Features