Windy and dry today, snow to rain on Wednesday
This won't be the storm for snow lovers yet…
TODAY: Partly cloudy, windy. Hello 42. Winds: W 10-15 mph. Gusts to 30 mph.
TONIGHT: Increasing clouds. Lo 30. Winds: SE 5-10 mph.
WEDNESDAY: Snow to rain, Breezy. Hello 38. Winds: SE 10-20 mph. Gusts to 30 mph.
Central PA got a little taste of winter yesterday, especially over areas north and west of Harrisburg where almost an inch of wet snow fell. Gloomier skies followed with windy conditions that will continue to this day. Although there should be some more sunshine today thanks to an incoming high pressure ridge. It will stay dry with highs in the low 40's. The wind will be gusty, at times near 30 miles per hour.
The weather will be more interesting tomorrow morning as an area of ​​low pressure tracks across the country is picking up some moisture from the Gulf and moving towards our region. This pattern still lacks some cold air, so we don't expect a major snow event. There will be a period of persistent snow, however, with the flesh of the storm coming late morning and early afternoon on Wednesday. Areas south of the turnpike will see the least snow, with just an inch or two towards York and Lancaster. Most snow with this system is expected to fall northwest of Harrisburg where over 3″ can occur. After 2pm, warmer air rushes in, turning the snow to rain and making for a wet evening commute. Early morning commutes may remain dry as snow doesn't start until after 8am for most, and evening commutes look mainly wet as temperatures soar into the upper 30s. It's the midday hours that could be tricky for the trip.
After the storm on Wednesday, the weather calmed down towards the end of the week. After a brief chilly shot from Thursday night into Friday, temperatures are expected to rise again this weekend, with Saturday highs in the upper 40's! An incoming front may bring us some showers late Sunday through Monday morning, followed by another cold snap as we approach early February. There's some hope for winter lovers, but nothing big just yet!
-Meteorologist Brett Thackara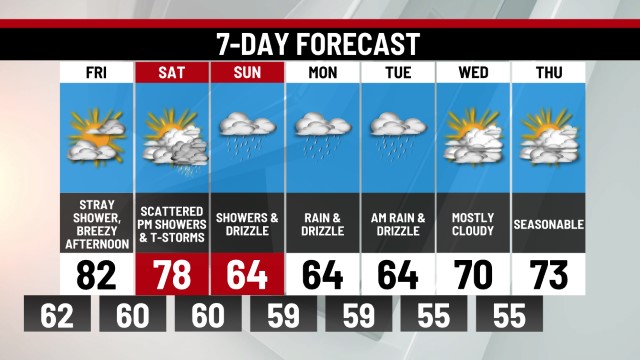 https://www.abc27.com/weather/forecast/breezy-and-dry-today-snow-to-rain-on-wednesday/ Windy and dry today, snow to rain on Wednesday